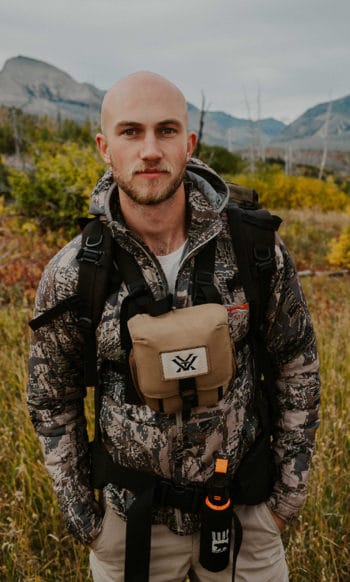 Andrea has been curious about wildlife and wild places for as long as he can remember.  As a child, you could find him outside, binoculars in hand, observing native fauna near his home.  He spent many hours with his nose in a book, researching wild places around the world.  As an adult, his travels have taken him to many remote parts of Africa, photographing big cats in the wild, and to the United States to pursue a degree in wildlife biology at the University of Montana.  During his studies, he took to the backcountry again, this time in Canada, with a research team, studying elk and wolves and collecting data for one of the longest running elk studies in the world.  He then found his way back to Montana to participate in another research project tracking mountain lions in the Montana wilderness.  Andrea may be far from his native Luxembourg, but home is where the heart is, and his passion for the Greater Yellowstone Ecosystem makes this a wonderful place to call home.
Certifications
Level II Wildlife Track & Sign / CyberTracker

Wilderness First Aid & CPR

B.S. Wildlife Biology | University of Montana
More Adventures
Andrea's Favorite Safari Tours
Bio
Andrea was born in Luxembourg and grew up with exposure to many different cultures. He became fluent in German, French, English and Italian. Early on in his childhood, he discovered his passion for wildlife. He spent as much time as possible outside observing the native fauna with his binoculars. He was also a bookworm and educated himself about the world and all the wild places he wanted to see. He wondered what it would be like to encounter a wild wolf or bear one day.
He was fortunate enough to travel to many remote areas in Africa. He found joy photographing big cats and participated in wildlife photography contests. He came to the United States in 2017 to pursue his dream of becoming a wildlife biologist. He got his B.S. in Wildlife Biology at the University of Montana where he was part of the Griz Track and Field Team. As a student he worked as a field research assistant in the backcountry of Banff, in Canada, collecting data for one of the longest-running elk studies in the world and analyzing wolf kills. He had to find and count the elk herd each day, retrieve radio collars from dead animals and hike deep into the wild to retrieve camera traps.
He also worked as a mountain lion tracker in Western Montana during the winter contributing to an eight year-long research project. The winter conditions were harsh, and the days were long but being in the presence of these magnificent cats made it well worth it. Andrea loves educating people about how to interpret wildlife and their signs on the landscape. He loves hiking and backpacking through remote and wild mountains and never forgets his camera to capture his encounters with Montana's megafauna.