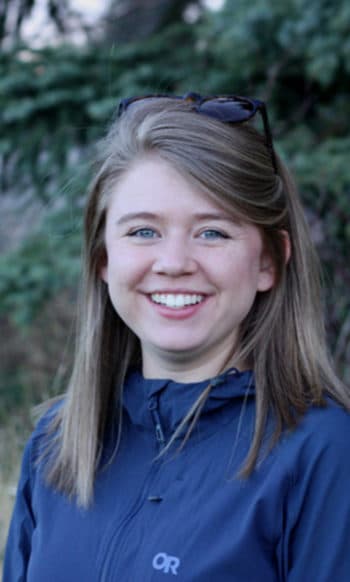 Kathleen appreciates the small things in life.  After spending a summer in Yellowstone National Park researching native bees and their role as drivers in landscape-scale patterns in the Greater Yellowstone Ecosystem, she is well acquainted with how nature's smallest creatures impact nature's largest creatures and she loves to share these connections with her guests.  She's well versed in the native flora and fauna of Yellowstone National Park and is able to articulate the interconnectedness of all things with great appreciation for this place.  Insects are not her only love, though.  Kathleen's work with raptors before moving to Montana turned her into an avid birder, a hobby that also serves her well professionally.  She holds a degree in Environmental Science from Montana State University.
Certifications
B.S. Environmental Science | Montana State University

Minor: Economics | Montana State University

First Aid & CPR

Level I Wildlife Track & Sign | CyberTracker
More Adventures
Kathleen's Favorite Safari Tours
Bio
Kathleen is a native of Minnesota with a love for the west. She grew up traveling to Montana when she was young enjoying the mountains and learning how to fly fish and ski. After graduating in 2015, she moved out to Montana permanently to pursue a degree in Environmental Science and Economics from Montana State University which she achieved in 2020. During her free time off, she enjoys skiing, backpacking, trail running, fly fishing and, of course, going into Yellowstone National Park.
While in school, Kathleen traveled to southern Kenya to conduct research on Wildlife Distribution and Bird Numbers in a local community sanctuary. She spent 5 months in the world-famous national parks and stunning landscapes of Kenya, studying the country's diverse wildlife – from elephants to black rhinoceros – and approaches to conservation. In the Great Rift Valley, she also observed climate change and land use changes that are negatively affecting Kenya's ecosystems and those living in them.
Kathleen has had a diverse range of jobs and passions which have always led her to the outdoors. One of her first jobs was at the University of Minnesota Raptor center where she assisted with the care of injured raptors. This job jump started her passion for birding which she is still pursuing today. She has also worked with invasive insects on agricultural landscapes as well as tended to plants at Eloise Butler Wildflower Garden expanding her knowledge of native wildflowers. During the summer of 2020, Kathleen spent the summer months conducting research on the drivers of landscape-scale patterns in the native bee community composition in Yellowstone National Park (YNP) as well as how plant-bee interactions vary with elevation. She assisted with the collection of native bees, identifying native vegetation, using GPS and GIS technology to track landscape changes and a variety of data collection and analysis in the field and in the lab. While collecting data, Kathleen hiked through the backcountry of Yellowstone increasing the love and appreciation she has for the park.
With her love for the solitude that Yellowstone National Park can offer as well as all of her previous job experiences, Kathleen tends to focus her passions on the small organisms that drives the success of Yellowstone's Ecosystem. She is great at identifying wildflowers and plants as well as bee species and birds. She believes that understanding and appreciating the smaller organisms in the park can lead to the excitement of seeing the larger canines and ungulates and show the symbiotic relationships that they share. To Kathleen no organism is too small to observe and adds for a more enjoyable and personal relationship with the landscape.