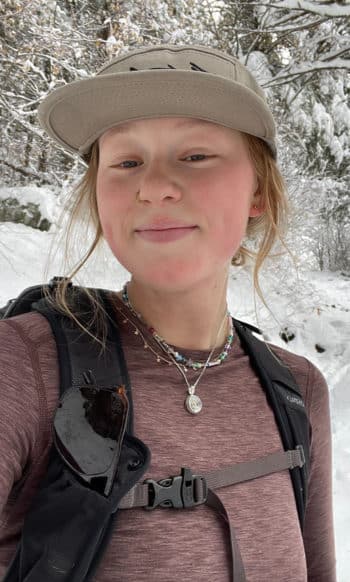 Lucy is working as a resident intern at Yellowstone Safari Company.  She came to Montana from Colorado for University but found the pandemic the perfect time to gain some real experience and take a gap year. She works in the office talking to guests and answering all inquiries about Yellowstone National Park.  Part of her internship includes spending one day a week on tour, learning from a different guide each week. Lucy's weekly tours shadow-guiding will help to integrate her knowledge of wildlife biology, birding and wolf identification as she finds her own guiding style.
Certifications
B.S. Candidate Wildlife Biology | University of Montana
More Adventures
Lucy's Favorite Safari Tours
Full Bio
Lucy is currently taking a gap year from the University of Montana.  She was studying wildlife biology.  She is continuing her studies through hands-on exploration and identification of wildlife in Yellowstone.  Lucy grew up in Colorado camping, exploring nature, learning bird and wildlife identification skills.  She found she also had a passion to share this information with others.   
Lucy has developed a strong love and connection to Yellowstone National Park.  She is an avid birder and will point out many species to guests.  Viewing wolves in Lamar Valley is another of Lucy's favorites in Yellowstone.  She is hoping to see a return to Lamar Valley when the park's roads reopen in the Northern Range.   On her weekly guiding trips, she is learning to share that love and connection with guests while seeing how guests form their own love and appreciation of the park.
We got to see many things we never would have found on our own. Coyotes feasting on a bison. A pack of wolves. A bear and cubs in den. Our guide was great. Best day of my trip.
D R.