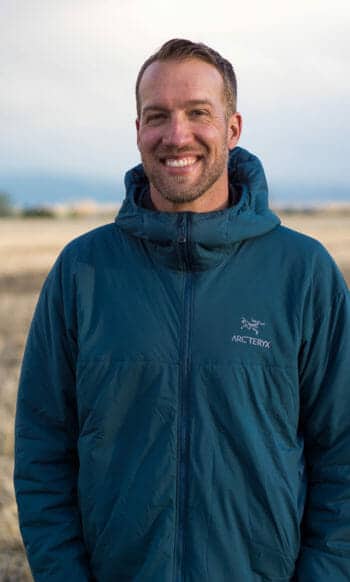 Grant has more than 20 years of experience in wildlife research and guiding in a career that has taken him around the US and abroad. After 14 years of working with the marine and terrestrial wildlife of The Bahamas, Grant was awarded the Cacique Award in Sustainable Tourism by the country's Ministry of Tourism. As an accomplished biologist, field researcher and guide, he has been featured numerous times on the National Geographic Channel, Animal Planet, the BBC, CNN, and the Discovery Channel. Grant returned to the United States full time in 2015 to work as a professional naturalist guide in the Greater Yellowstone Ecosystem and is dedicated to sharing his passion for this place with others.
Certifications
B.S. Biology | University of Wisconsin

Outdoor Guide Certification | University of Wyoming

Level III Wildlife Track & Sign | CyberTracker

Blue Flag | Foundation for Environment Education

Emergency First Response: Primary and Secondary First Aid & CPR

Cacique Award for Sustainable Tourism

Rescue Diver
More Adventures
Grant's Favorite Safari Tours
Bio
Grant grew up in Minneapolis, MN and obtained his B.Sc. degree in Biology from the University of Wisconsin – Eau Claire in 1999. Soon after graduating, and following a field-biology internship in The Bahamas, he was offered a job managing the world renowned Bimini Biological Field Station (SharkLab). For six years, Grant helped teach hundreds of aspiring biologists the fundamentals of field research, focused on the wide array of sharks, rays, and reptiles that inhabited the vibrant waters around the islands.
Grant eventually transitioned into guiding and tourism in 2007, and along with his wife Katie, helped develop and run a popular ecotourism program for a small resort on Bimini. After 8 years of leading nature hikes, snorkeling trips, dolphin swims, shark​ dives, and boat tours, the pair received the Cacique Award for Sustainable Tourism, The Ministry of Tourism's highest honor in the country's most important industry.​ During his time in The Bahamas, Grant was a regular contributor to the popular "Shark Week" television programs, and has worked on dozens of film shoots in a variety of roles for the Discovery Channel, National Geographic Channel, BBC, and others.
In 2015, Grant returned to the U.S. and moved to the Greater Yellowstone Area, intent on continuing his career as a safari guide in one of the world's most iconic wildlife destinations. Since then he's become even more dedicated to sharing his love for the great outdoors, and all the creatures that inhabit it, with even more guests from around the globe. ​Grant worked as the Wildlife Consultant for "Earth's Incredible Places: Yellowstone," a popular children's book about the Park, and in the summer of 2023 was interviewed on CNN This Morning about wildlife safety in our National Parks. ​Grant has made a career out of working with some of the most fascinating & majestic animals on the planet, and he can't wait to share their stories with you.