Overview
This fantastic multi-day safari is an adventure through the wilds of Montana and Wyoming, showcasing the northeastern corner of Yellowstone National Park and numerous hidden delights of the Rocky Mountain West, including the rare chance to see wild mustangs. 
Our three-day Wild West Safari is a unique opportunity to explore Yellowstone and beyond; to see firsthand how our wild lands are protected, managed, and experienced in the West. From the world's first National Park where wild wolves and bears dominate the ecosystem, to areas outside of the National Park, where a remnant herd of wild mustangs thrives, your professional naturalist guide will educate you on the history and current conservation stories that define this region. Along the way you will have time to enjoy wildlife sightings, visit iconic features of Yellowstone and enjoy the seemingly endless and powerful scenery around you.
Like all our safaris, this journey is completely customizable. The needs, desires and comfort of our guests are our utmost priorities. Over three days we will aim to include highlights of Northern Yellowstone; Mammoth Hot Springs, an incredibly unique example of travertine formations, Lamar Valley with its amazing abundance of North America's wildlife, and the Grand Canyon of the Yellowstone, with its magnificent waterfalls that have inspired generations of artists and viewers alike. We will venture into Wyoming over the famed Beartooth Pass, which has been hailed as one of the great mountain by-ways in this country, on our way to the High Deserts near Cody, Wyoming where herds of mustangs provide awe-inspiring photo and viewing opportunities. 
With the use of binoculars and spotting scopes, we can unobtrusively observe authentic wild animal behaviors and your guide is there to interpret what you see and share their depth of knowledge around these incredible experiences. Our guides are flexible and will adjust your itinerary for any impromptu experiences. Your exact route and itinerary will be determined by your interests, current wildlife sightings, and weather and road conditions.  Our guides are all highly experienced, with thousands of hours in the field, and will expertly tailor your safari to you and your group.
Our multi-day tours allow for more time spent out of the vehicle. Our guides are trained in wilderness safety and are ready to share the incredibly special backcountry with our guests. Walks ranging from 20 minutes to several hours are available and encouraged for our guests who long to escape the din of people and cars and to enter the magnificent wilderness of the mountains. Secret thermal features, pristine waterfalls and undisturbed wildlife encounters are daily finds on these journeys. 
What's Included
Professional naturalist guide

Use of spotting scopes and binoculars

National Park entrance fees
Private Safari
$6050 per vehicle for 1-2 guests; $1750 for each additional guest, (plus taxes and fees). Maximum per vehicle, 6 guests. No minimum age. This is a private safari.

Reservations are dependent on hotel availability at the time of booking.
Pickup Information
All of our guests are picked up (and dropped off) at their lodging location.  We pick up in Bozeman, Paradise Valley, Gardiner, Mammoth, Big Sky and West Yellowstone.  When you reserve, we'll confirm your exact pickup time, based on the season, as well as your exact pickup location.
Please allow your guide an additional 5-10 minutes before and after the scheduled pickup time in case of weather delays or traffic conditions.
Approximate pickup times include:
6:00AM Bozeman

6:45AM Paradise Valley
7:30AM Gardiner
7:45AM Mammoth
6:45AM Big Sky
7:45AM West Yellowstone
Itinerary
Day 1
Yellowstone National Park
Your guide will meet you at your local accommodations, and you will travel to the legendary Northern Range of Yellowstone National Park.  The Northern Range is considered the most predator-rich landscape in the United States, home to robust populations of wolves, grizzly bears, black bears, cougars, coyotes, bald eagles, and more.  You will spend the day exploring some of the most inspiring landscapes in the National Park, such as Lamar Valley, Little America, and the Blacktail Plateau, as we search for Yellowstone's diverse animal species. 
We will check in at our evening's accommodations where you have the option of an early meal and an evening game drive, or a leisurely meal and time for relaxation at your own pace.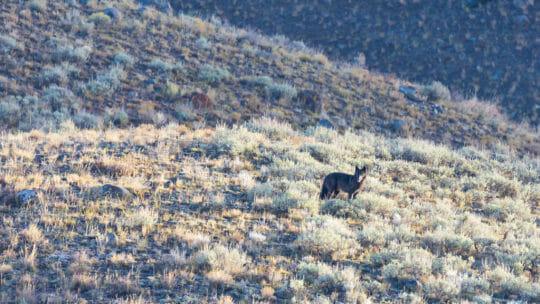 This morning, we will venture out for a short game drive in Lamar Valley and then begin our journey over Beartooth Pass.  This roadway is hailed as one of the most iconic and beautiful scenic drives in the United States.  We will search for high-mountain residents such as mountain goats, cougars and other wildlife on the way. 
Our destination is Cody, WY where you can opt for an afternoon rodeo, a visit to the Buffalo Bill Wild West Museum, or an afternoon or sunset drive into the McCullough Peaks Management Area to view wild mustangs.  Your guide will direct you to your accommodation for the evening and escort you to dinner in this historic western town.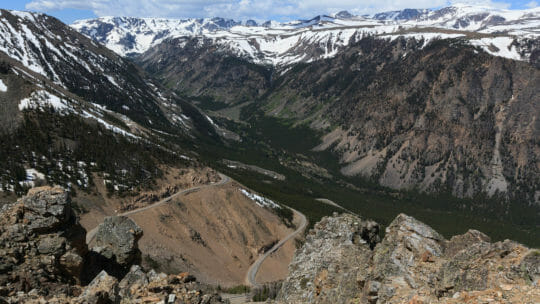 Day 3
McCullough Peaks Management Area
This morning you will have an opportunity to view the high desert landscape of Wyoming within the McCullough Peaks Management Area for a sunrise viewing of wild mustangs.  We will traverse Sylvan Pass on our way back into Yellowstone National Park via the East Entrance.  This area is rich with grizzly activity and many other wild animal sightings are possible.
Your guide will show you the Grand Canyon of the Yellowstone River with its incredible three waterfalls before taking you back to your accommodations in Bozeman or surrounding areas with enough time for you to enjoy dinner and an evening of relaxation at the end of your journey.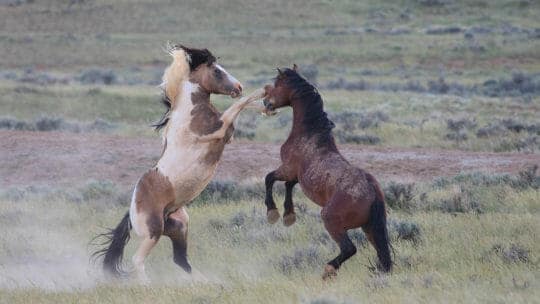 FANTASTIC experience with Yellowstone Safari Company-- such a knowledgeable guide and a joy to talk with. The incredible experience makes me want to visit Yellowstone again AS SOON AS POSSIBLE. Our guide taught me to see wildlife in a whole new light! SO EXCITING to see wolves, coyotes, foxes, and more. I'd book them again in a heartbeat. Hope I get the opportunity.
Darcy D.
FAQs
What should I bring?
We will step in and out of vehicles during our safari tours so you'll want to wear comfortable shoes that allow you to walk on uneven surfaces, like gravel, or a boardwalk.  Stepping in and out allows us to make the best use of our time in Yellowstone National Park and gives us the best wildlife viewing and photo opportunities.  Your guide will have binoculars and spotting scopes for you to use, but do not forget to bring your camera!  While Yellowstone has some modern facilities, we are going to be traveling through remote areas of a National Park.  Please remember to being any personal items, like medication, that you may need during the day.
What should I wear?
The rocky mountain range can see drastic temperature swings during the day, even in the summer months.  Please come prepared!  For clothing, synthetic layers are best in our mountain environment.  Base layers act as a wicking layer against the body, so we recommend anything from a light weight layer to an expedition weight layer, depending on the season.  A mid layer provides warmth, so we recommend a mid weight fleece layer or softshell jacket for the upper body and a pair of travel pants or jeans for the legs.  The outer layer provides protection from the elements and serves as a wind/water blocking layer.  A waterproof shell for your upper body will keep you dry and therefore, warm.  For the legs, we recommend either weatherproof rain or snow pants, depending on the season.  You may not need an outer layer during the warm summer months with no rain forecasted, but it is still a good idea to bring it with you.  Conditions can change quickly.  Your footwear should be comfortable and appropriate for the season.  For the summertime, walking shoes or hiking boots are a great choice.  Please avoid wearing flip-flops.  For winter, snow boots with wool socks will keep your feet warm.  For winter, you'll also want to bring a wool, or fleece, hat, as well as mittens/gloves to keep your hands warm.  In the summertime, a light hat with a visor is all you'll need on your head.  In any season, do not forget sunscreen or sunglasses.  At high altitude, the sun's rays are intense, even in winter.