Overview
This is your chance to visit the greatest features of our dynamic region while capturing the spirit of two famous National Parks.  You will get the chance to view volcanic hydrothermals, glacial lakes, impressive mountain ranges and many of America's most memorable wildlife.
Our 2-Day Yellowstone and Grand Teton Safaris are offered in the spring, summer, and fall, and will focus on showcasing the elements of this ecosystem that will inspire awe and fascination.
On each safari we will connect you with wonders such as geysers, hot springs, mud pots and fumaroles that bring awareness to the huge volcanic force underneath Yellowstone's borders. We will see multiple mountain ranges such as the Tetons, striking a snow-capped visage against the open skies, dip our toes in glacial lakes and rivers which are the life-blood of the region, and find and observe megafauna which remind us of our rich American past, present and future. Bison, Elk, Moose, Bears, Deer, Pronghorn and many others are abundant, and every day is an adventure in wildlife viewing and an opportunity to realize the value of public lands and conservation.
Over the course of two days, we will have opportunities to enjoy time in each National Park to walk, explore, contemplate, and observe every point of interest. We will enjoy prime wildlife viewing times as well as enjoy feelings of solitude off the beaten path and optimal lighting for photography.
Our 2-Day Safari in Yellowstone and Grand Teton National Parks are completely customizable.  The needs, desires, and comfort of our guests are our utmost priorities.  We aim to include the highlights of Yellowstone and Grand Teton that are both famous and lesser-known. We also welcome impromptu experiences.  Our guides are flexible and will lead the journey according to your interests, current wildlife sightings, and weather.  We will arrange accommodations on the border of Grand Teton National Park in order to give our guests ideal access to the region we are exploring.
What's Included
Professional naturalist guide

Use of spotting scopes and binoculars

National Park entrance fees
Private Safari
$3350 per vehicle for 1-2 guests; $950 for each additional guest, (plus taxes and fees). Maximum per vehicle, 6 guests. No minimum age. This is a private safari.

Reservations are dependent on hotel availability at the time of booking.
Pickup Information
All of our guests are picked up (and dropped off) at their lodging location.  We pick up in Bozeman, Paradise Valley, Gardiner, Mammoth, Big Sky and West Yellowstone.  When you reserve, we'll confirm your exact pickup time, based on the season, as well as your exact pickup location.
Please allow your guide an additional 5-10 minutes before and after the scheduled pickup time in case of weather delays or traffic conditions.
Approximate pickup times include:
6:00AM Bozeman

6:45AM Paradise Valley
7:30AM Gardiner
7:45AM Mammoth
6:45AM Big Sky
7:45AM West Yellowstone
Itinerary
Day 1
Yellowstone National Park
Your guide will meet you at your lodging, and you will travel to the closest entrance gate for Yellowstone National Park. This could be the North Gate or the West Gate. Our itinerary will vary depending on this starting point.  We will spend this first day exploring some of the most breathtaking landscapes in Yellowstone including geyser basins, historic sights, lakes and canyons and an evolving morning of wildlife sightings.
As you journey along the southwestern side corner of Yellowstone, we will see the change of landscape along the Volcanic Caldera. Your guide will highlight all four hydrothermal features present in Yellowstone through a myriad of options (there are over 10,000).  You will also visit Yellowstone Lake and Jackson Lake, two of the largest alpine lakes in the country, and then descend past rivers, waterfalls and incredible wildlife habitat into the Tetons.
Your guide will focus on your immersion into the landscape by taking short walks to view wildlife and experience nature with all of your senses. After a picnic or unique restaurant lunch, your guide will take you through the Jackson Hole Valley, also known as Grand Teton National Park. This region was protected 80 years later than Yellowstone and maintains fascinating historic references through homesteads as well as current conservation efforts. In the afternoon we will return to our evening accommodations on the border of the Park, where a few hours of downtime are possible. Your guide will escort you to one of the area's local dining establishments for a hearty dinner, and then the conclusion of the evening is yours for resting and relaxing.  For the wildlife enthusiasts, your guide may also be amenable to an early meal followed by an evening game drive to Oxbow Bend, Willow Flats or other areas in Grand Teton National Park that are awe-inspiring.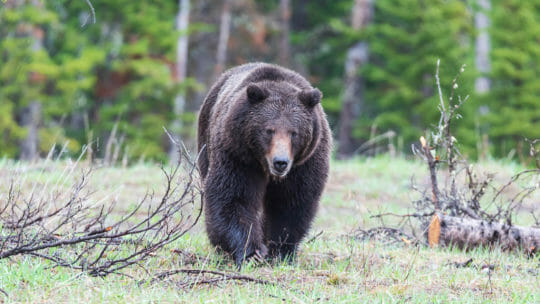 Day 2
Yellowstone National Park
We will aim for an early start in order to view wildlife and see the morning light break upon the impressive peaks of the Tetons.  We will view Jenny Lake before the crowds descend and relish in the morning alpenglow hours. As we make our way back North, we will enter Yellowstone again and move towards the Eastern side of the lower loop. We will drive along Yellowstone Lake, seeing sights such as LeHardy rapids on the Yellowstone River, and Mud Volcano, before entering the wildlife-rich Hayden Valley. After short explorations and nature-immersions we will continue towards the Grand Canyon of the Yellowstone, one of the greatest features in Yellowstone. Two major waterfalls cascade through a dramatic lava-flow, and fill us with the awe of ages.
We will have numerous options for hiking and exploring throughout the day, as well as time for hands-on investigations into the lives of Yellowstone's various birds and large game mammals. Your guide will be glad to seek out and observe any wild creatures that are of interest to you.
We will return you to your lodging by late afternoon on the second day, having visited and experienced the best of the best, our two National Parks that hold the most unique ecosystem in our country.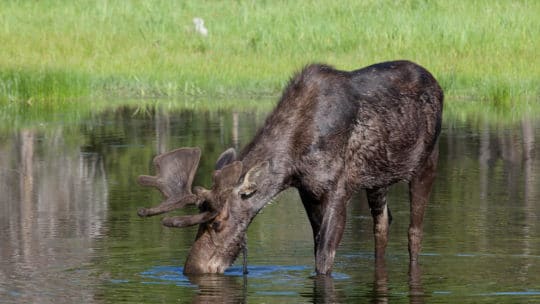 I called twice for info and booked a two day trip for myself and my wife. We wanted to see all possible species but grizzlies and wolves in particular. Our guide picked us up at our hotel in Gardiner at 6:30 AM. He arrived a little early, and had coffee, tea and a good amount of sandwiches, fruit, and plenty of other goodies to snack on. His SUV was very clean and comfortable. We headed out right away and started seeing wildlife very quickly. In the first couple of hours we saw a moose (very rare in Yellowstone) several wolves and several grizzlies. Also, we saw mountain goat, bighorn sheep, and numerous other birds and animals. He demonstrated his intimate knowledge of the habits of animals, plants and other vegetation, as well as history and geology of the area. His obvious knowledge, friendly personality, professional conduct, made us feel like royalty. Also, his driving skill made my wife and me feel very much at ease (and we are hard to please when it comes to riding with someone else driving).

On the next day we started out earlier (5:30 AM) to increase our chances of seeing more activity; a great plan with great results. We saw more birds and animals than we ever expected, knowing that wildlife movement is out of our control. With a lot of help from our guide we got many great pictures of the animals we observed. Over the past 50 years I have used the services of guides from Canada to the Caribbean. This trip was close to the best one ever. The enjoyment of the experience and the fantastic results made this trip, in my opinion, a great value.
Bob H.
FAQs
Will we see Old Faithful on this tour?
We will absolutely visit Old Faithful and watch an eruption, if this is of special importance to our guests. There are many geysers, hot springs, and other thermal features we will also visit.
What wildlife will we see in Yellowstone and Grand Teton?
We cannot guarantee any wildlife sightings, but our guides know where and when to look for certain species. We can hope to see bison, elk, moose, deer, and many other mammals.  We will also search for predators such as bears and wolves, if possible. Many migratory birds, and resident raptors are visible as well, throughout our journey.
Does this tour make a stop in the town of Jackson, WY?