Overview
See the highlights and hidden gems of the Greater Yellowstone Ecosystem as you spend four days traversing Yellowstone and Grand Teton National Parks.  Over the course of the tour, you will have opportunities to view wildlife at opportune times, experience sunrises and sunsets in incredible locations, walk amongst volcanic treasures, and enjoy the charm and hospitality of a few iconic western Rocky Mountain towns.
Our multi-day national park safaris are private and customizable. The needs, desires, and comfort of our guests are our utmost priorities.  We aim to include as many highlights of both parks as we can. Our guides are flexible and will lead the journey according to your interests, current wildlife sightings, and weather.
Highlights
Wolves, Bears, Bison & Other Wildlife
Volcanoes, Geysers & Alpine Landscapes
See Yellowstone, Grand Teton & Jackson Hole
Accommodations are arranged in gateway communities at the entrance to Yellowstone National Park (Silver Gate or Gardiner, MT) and Grand Teton National Park (Jackson, WY) to give you complete access to these parks and their wonders. 
Availability for this tour is dependent on hotel availability in the region for your requested dates.  If the preferred hotels do not have availability at the time of booking, we will offer you alternatives or refund your deposit.  We recommend booking in advance to ensure that we can secure your preferred dates. 
This multi-day wildlife safari tour is offered from mid May to mid October and will focus on a balance of experience in both National Parks. Our naturalist guides will aim to find as much of the Greater Yellowstone Region's thriving wildlife populations as possible, and throughout the tour there will be abundant opportunities to view the most sought-after species, from predators like grizzly and black bears and wolves, to ungulates like bison, elk and moose. Our guides will highlight these experiences with Vortex binoculars and spotting scopes, and ample interpretation for our guests, for an intimate, educational experience.
This four day National Park safari will also highlight more of the volcanic, geologic, and natural features to be found within Yellowstone National Park and Grand Teton National Park. We will showcase more backcountry geysers, mudpots, and hot springs, in addition to the well-known stars, as well as explore hidden valleys, river systems, and the secrets of our mountain peaks including the stunning Teton range.
Our 4-Day safari tours are private and customizable. The needs, desires, and comfort of our guests are our utmost priorities.  We aim to include as many highlights of both National Parks as we can. Our guides are flexible and will lead the journey according to your interests, current wildlife sightings, and weather. We will arrange accommodations in gateway communities around Yellowstone National Park and in Jackson Hole to give you complete access to these National Parks and their wonders.
This multi-day tour also allows for more time spent out of the vehicle. Our guides are trained in wilderness safety and are ready to share the wonder of western wilderness with our guests. Hikes and walks ranging from 20 minutes to several hours are available and encouraged for our guests who long to escape the din of people and cars and enter the magnificent wilderness. Secret thermal features, pristine waterfalls, and undisturbed wildlife encounters are daily finds on these journeys.
What's Included
Professional naturalist guide

Use of spotting scopes and binoculars

National Park entrance fees
Private Safari
$8600 per vehicle for 1-2 guests; $2600 for each additional guest, (plus taxes and fees). Maximum per vehicle, 6 guests. No minimum age. This is a private safari.

Reservations are dependent on hotel availability at the time of booking.
Pickup Information
All of our guests are picked up (and dropped off) at their lodging location.  We pick up in Bozeman, Paradise Valley, Gardiner, Mammoth, Big Sky and West Yellowstone.  When you reserve, we'll confirm your exact pickup time, based on the season, as well as your exact pickup location.
Please allow your guide an additional 5-10 minutes before and after the scheduled pickup time in case of weather delays or traffic conditions.
Approximate pickup times include:
6:00AM Bozeman

6:45AM Paradise Valley
7:30AM Gardiner
7:45AM Mammoth
6:45AM Big Sky
7:45AM West Yellowstone
Itinerary
Day 1
Northern Yellowstone National Park
Your guide will meet you at your lodging in Southern Montana and will travel to the legendary Northern Range of Yellowstone National Park. This region is home to robust populations of wolves, grizzly bears, black bears, cougars, coyotes, bald eagles, and more.  You will spend this day exploring some of the most breathtaking landscapes in Yellowstone, such as Lamar Valley, Little America, and the Blacktail Plateau, as we search for a variety of animal species. We can also visit famed Mammoth Hot Springs if desired, near Yellowstone Park Headquarters. We will then proceed to our nearby lodging for the evening, in either Silver Gate or Gardiner, MT, perfectly poised for the second day of our safari. Your guide will escort you to one of the area's dining establishments for a hearty dinner. You will then have an opportunity for an evening game drive, or relaxation time in your room after the long day.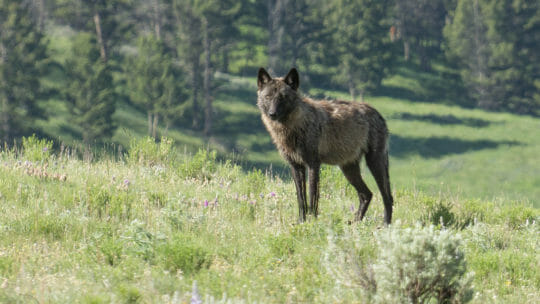 Day 2
Yellowstone National Park, Secret Highlights
We'll aim for an early start today, beginning our safari at, or before, sunrise to put us in prime predator habitat during this peak activity period. Your guide will then plan a day of highlights and a hike which, depending on your desire and ability levels, will allow access to lesser-known environments in Central Yellowstone. We may venture over Dunraven Pass, an impressive region with show stopping views, or gorgeous Swan Lake Flats, on our way to Canyon, where we will focus on the Grand Canyon of the Yellowstone and its two incredible waterfalls. We will also see Hayden Valley, Pelican Valley, and Yellowstone Lake, the largest glacial lake in the lower 48 States. We will overnight this evening in West Yellowstone, MT, where a visit to the famous Grizzly and Wolf Discovery Center is possible depending on timing and desire. Your guide will escort you to your lodging and dinner for the evening.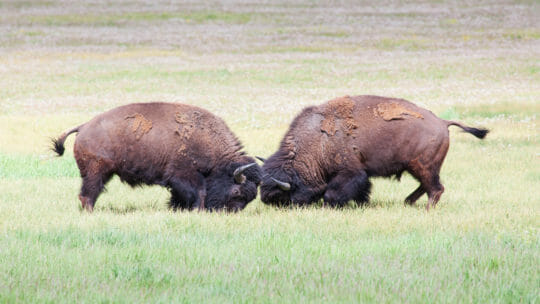 Day 3
Volcanic Yellowstone, Grand Teton National Park, Jackson Hole
Another early morning start will help you beat the crowds in your journey towards Yellowstone's most famous thermal features. We will visit Grand Prismatic Spring, the Upper and Lower Geyser basins, Old Faithful, and West Thumb geyser basin, to give you the best overview of these hydrothermal wonders. Afterwards we will descend along the Lewis River Canyon more than 1000 ft out of Southern Yellowstone and into Grand Teton National Park. Your first view will be of stunning Jackson Lake and the Tetons. An abbreviated tour of the park on your way to Jackson will get you excited for your final day. Your guide will escort you to your lodging and dinner for the evening in the beautiful western town of Jackson, WY, where you will also have time to peruse the famed galleries and shops around the Town Square.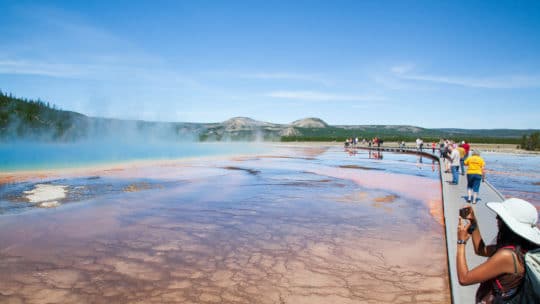 Day 4
Jackson Hole, Grand Teton National Park, Yellowstone National Park
An early start will allow for a full 5-6 hour tour of Grand Teton National Park, highlighting wildlife, scenery and the unique history of the Jackson Hole Valley and its residents. Short walks along the Snake River, visiting several famous glacial lakes along the base of the Teton Range, visits to historical sights, ample wildlife sightings, and photography opportunities will all be included. Your guide will return you to Bozeman this afternoon via Teton Pass, Idaho, and the Gallatin Canyon near Big Sky, MT.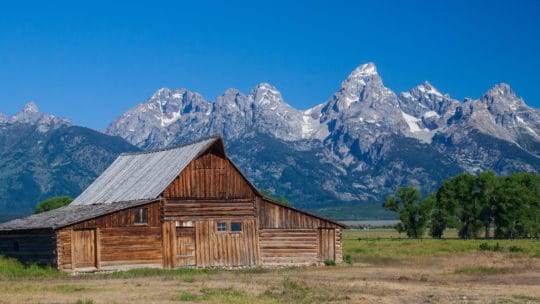 If I could give this company- and specifically our guide, more than 5 stars, I would. I don't know how we got so lucky to have the guide we did, but by the end, we were sad to say goodbye. He is an ex forest ranger who studied geology and shared every bit of expertise he could. From rock and mountain formations to facts about the wildlife- it was magical. He showed us the best spots to see wildlife and we got to see 8 bear, 5 wolves, 5 mountain goats, a moose, a badger, countless elk, pronghorns, mule deer and bison. He provided us with an unforgettable experience. The snacks, the lunch, the van, the conversation- cannot recommend this enough.
Shannon B.
FAQs
Where will we stay during our 4 day wildlife safari tour?
We will stay at our preferred lodging locations, depending on availability, in the lovely gateway towns of Gardiner or Silver Gate, MT on the first evening and West Yellowstone, MT on the second, ending with a stay in the beautiful mountain-town of Jackson, WY before returning to Bozeman on the fourth day.
What items should I pack for my multi-day safari?
A full packing recommendation list is included in every confirmation email. We recommend to travel light, with only your essentials with you in the vehicle. This allows for ease of travel and transit. We recommend layered, outdoor clothing, sturdy walking shoes, and hats, sunglasses and cameras!
How much wildlife will we see on a four day safari through Yellowstone and Grand Teton?
Yellowstone and Grand Teton National Parks make up the core of the Greater Yellowstone Ecosystem, one of the most biodiverse ecosystems in North America. You will likely not go more than an hour without a wildlife spotting on any of these safari days.  If wildlife is your focus, your guide will arrange game drives accordingly, in order to increase the chances of spotting wildlife in its natural habitat, as you travel throughout the parks.