Overview
Maximize your experience in the Greater Yellowstone Ecosystem with some of Yellowstone's most fabled apex predators, like bears and wolves, and embark upon the ultimate wildlife expedition in the world's first National Park.
Our 3-Day Bear & Wolf Safari tours are offered in the spring, summer, and fall, and will focus on finding and observing black bears, grizzly bears, and wolves.  These safaris allow for abundant opportunities with Yellowstone National Park's most sought after species, from bears to bison, and from wolves to wapiti.  A 3-day safari gives us opportunities for multiple game-drives during peak wildlife activity periods, when both predators & prey are commonly seen foraging, exploring, and interacting with each other on the vast expanses of Yellowstone National Park.
With the use of the binoculars and spotting scopes provided to you, we can unobtrusively observe authentic wild behaviors that unfold before us.  Your professional naturalist guide is there to interpret the events taking place, and share their in-depth knowledge of these intimate experiences.
Our 3-Day Bear & Wolf Safaris are completely customizable.  The needs, desires, and comfort of our guests are our utmost priorities.  We aim to include several highlights that Yellowstone is famous for in our itinerary, such as visiting Mammoth Hot Springs, exploring Lamar Valley, and welcoming other impromptu experiences.  Our guides are flexible and will lead the journey according to your interests, current wildlife sightings, and weather.  We will arrange accommodations on the border of, or within, Yellowstone National Park to give you complete access to Yellowstone, and its wonders, in every condition.
A multi-day tour allows for more time spent out of the vehicle. Our guides are trained in wilderness safety and are ready to share the incredibly special backcountry of Yellowstone with our guests. Hikes and walks ranging from 20 minutes to several hours are available and encouraged for our guests who long to escape the din of people and cars and enter the magnificent wilderness. Secret thermal features, pristine waterfalls, and undisturbed wildlife encounters are daily finds on these journeys.
What's Included
Professional naturalist guide

Use of spotting scopes and binoculars

National Park entrance fees
Private Safari
$3800 per vehicle for 1-2 guests; $1200 for each additional guest. Single supplement is $200.
Maximum per vehicle, 6-8 guests.
Pickup Information
All of our guests are picked up (and dropped off) at their lodging location.  We pick up in Bozeman, Emigrant, Gardiner, and Mammoth.  When you reserve, we'll confirm your exact pickup time, based on the season, as well as your exact pickup location.
Please allow your guide an additional 5-10 minutes before and after the scheduled pickup time in case of weather delays or traffic conditions.
Approximate pickup times include:
6:00AM Bozeman

6:45AM Emigrant / Paradise Valley

7:00AM Gardiner

7:00AM Mammoth
Itinerary
Day 1
Yellowstone National Park
Your guide will meet you at your designated accommodations, and you'll travel to the legendary Northern Range of Yellowstone National Park.  The Northern Range is considered the most predator-rich landscape in the United States, home to robust populations of wolves, grizzly bears, black bears, cougars, coyotes, bald eagles, and more.  You'll spend the day exploring some of the most breathtaking landscapes in the National Park, such as Lamar Valley, Little America, and the Blacktail Plateau, as we search for Yellowstone's apex animal species.  Depending on current wildlife patterns, we'll then proceed to our nearby lodging for the evening, perfectly poised for the second day of our safari.  Your guide will escort you to one of the area's finest dining establishments for a hearty dinner, and then the conclusion of the evening is yours for resting and relaxing.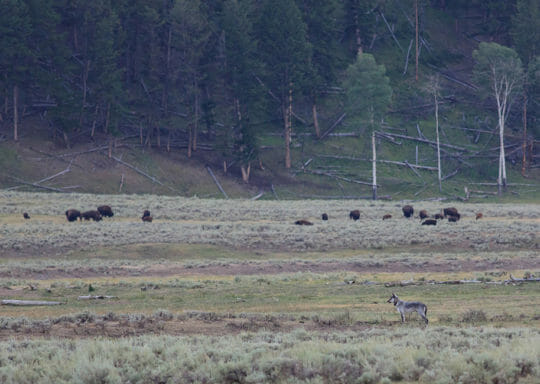 Day 2
Yellowstone National Park
We'll aim for an early start today, and dependent upon the latest bear and wolf activity, we'll begin our morning game drive at, or before, sunrise to put us in prime predator habitat during this peak activity period.  We'll have numerous options for hiking and exploring along the way, as well as ample time for in-depth investigations into the lives of Yellowstone National Park's most wild residents.  One of the park's most unique geothermal features, Mammoth Hot Springs, will be visited, as we continue our journey through the entirety of the Northern Range.  Following our late-afternoon/evening game drive, we'll return to our accommodations for another nourishing dinner, and a comfortable night's rest.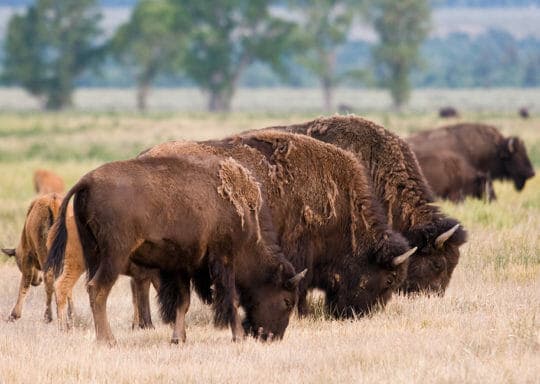 Day 3
Yellowstone National Park
Once again, we'll venture out at, or before sunrise to enjoy our final morning together.  Taking consideration of the latest wildlife sightings, we'll spend our 3rd day exploring the Northern Range, or continue deeper into the interior of Yellowstone National Park to search for wildlife in Hayden Valley, Swan Lake Flats, and other pristine wildlife habitats yet unvisited.  In addition to immersing ourselves in the wild, we'll have the opportunity to visit additional landmarks such as the Grand Canyon of the Yellowstone and the mystifying Mud Volcano.  We will return you to your lodge, or other accommodations, by early evening in time for you to check-in and enjoy dinner.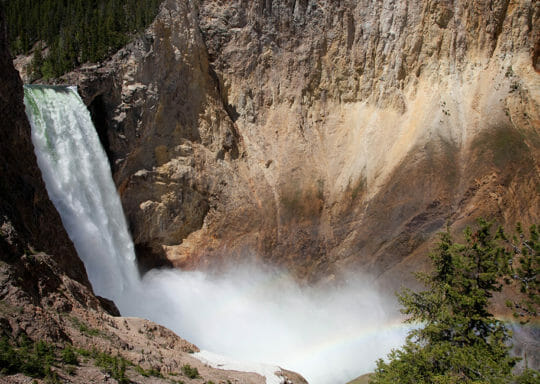 If you go to Yellowstone, go with Yellowstone Safari Company. We have just spent a fantastic week at Yellowstone and the Grand Tetons with our guide. The sights of Yellowstone are world renowned and fabulous - geysers, hot springs etc, but what also made this trip exceptional is the wildlife and the enthusiasm with which we looked for bears, bison, elk, pronghorn, moose, beavers, bald eagles, wolves, coyotes, mule deer.... and saw them all! We would have missed most of the animals if it had not been for the expertise of our guide, and it really is the trip of a lifetime.
Liz G.
FAQs
What is your cancellation policy?
We have a 7-day cancellation policy for all 2-day and 3-day wildlife safaris.  Cancellations made before the cancellation policy goes into effect will receive a full refund.  Cancellations made within 7 days of departure, and before the day of departure will receive a 50% refund.  Cancellations or no-shows on the day of departure will not be refunded. We strongly recommend travel insurance in order to protect you from unforeseen travel interruptions that prevent you from joining us.
What should I bring?
We will step in and out of vehicles during our safari tours so you'll want to wear comfortable shoes that allow you to walk on uneven surfaces, like gravel, or a boardwalk.  Stepping in and out allows us to make the best use of our time in Yellowstone National Park and gives us the best wildlife viewing and photo opportunities.  Your guide will have binoculars and spotting scopes for you to use, but do not forget to bring your camera!  While Yellowstone has some modern facilities, we are going to be traveling through remote areas of a National Park.  Please remember to being any personal items, like medication, that you may need during the day.
What should I wear?
The rocky mountain range can see drastic temperature swings during the day, even in the summer months.  Please come prepared!  For clothing, synthetic layers are best in our mountain environment.  Base layers act as a wicking layer against the body, so we recommend anything from a light weight layer to an expedition weight layer, depending on the season.  A mid layer provides warmth, so we recommend a mid weight fleece layer or softshell jacket for the upper body and a pair of travel pants or jeans for the legs.  The outer layer provides protection from the elements and serves as a wind/water blocking layer.  A waterproof shell for your upper body will keep you dry and therefore, warm.  For the legs, we recommend either weatherproof rain or snow pants, depending on the season.  You may not need an outer layer during the warm summer months with no rain forecasted, but it is still a good idea to bring it with you.  Conditions can change quickly.  Your footwear should be comfortable and appropriate for the season.  For the summertime, walking shoes or hiking boots are a great choice.  Please avoid wearing flip-flops.  For winter, snow boots with wool socks will keep your feet warm.  For winter, you'll also want to bring a wool, or fleece, hat, as well as mittens/gloves to keep your hands warm.  In the summertime, a light hat with a visor is all you'll need on your head.  In any season, do not forget sunscreen or sunglasses.  At high altitude, the sun's rays are intense, even in winter.
What do others say about this tour?
5 Stars
This is a great company! We went on a 3 day trip. The company arranged our itinerary based upon what my husband and I wanted to see. Although it was pricey, there was not a moment we were disappointed. Our guide was very knowledgeable, personable and I think he was as excited (or possibly more) than we were to see the animals!. He took the extra effort to help us see Moose, Elk, Brown Bear, Grizzly Bear, Wolves (entire pack, and pups from another pack), Mule Deer, Osprey, Owls, Marmot, Bison, and more. Accommodations were on par with being in a National Park. Lunches were yum. Loved the thermal portion of the Park… If you have never seen the Prismatic Spring… You have missed one of the world's most fascinating treats!. We highly recommend this company! The transportation was new, clean, roomy and comfortable.
Laura L.
5 Stars
Yellowstone Safari Company delivered from the moment we booked with them to the moment we were dropped off at our cabin. They are truly willing to customize a trip to your specific needs and they communicate with you every step of the process. Our tour guide was incredibly knowledgeable; every time we stopped, other tourists would gather round to hear his history and commentary on the surroundings. Our trip to Yellowstone absolutely would have paled in comparison without his knowledge and expertise. Our guide's knowledge and his passion and love for what he does shone through every moment of our adventure. I am eternally grateful for the day we had and the memories we made.
Cassie R.