Overview
Spend 5 incredible days in Yellowstone and Grand Teton National Parks with a private guide, exploring the Greater Yellowstone Ecosystem. Over the course of this multi-day safari you will have opportunities to view wildlife in their natural habitat, explore some of the best Rocky Mountain terrain and features on foot, visit famous volcanic highlights and get a taste of small Rocky Mountain town history, museums and culture.
Our multi-day national park safaris are private and customizable. The needs, desires, and comfort of our guests are our utmost priorities.  We aim to include as many highlights of both parks as we can. Our guides are flexible and will lead the journey according to your interests, current wildlife sightings, and weather.
Highlights
Wolves, Bears, Bison & Other Wildlife
Volcanoes, Geysers & Alpine Landscapes
See Yellowstone, Grand Teton & Jackson Hole
Accommodations are arranged in gateway communities at the entrance to Yellowstone National Park (Silver Gate or Gardiner, MT) and Grand Teton National Park (Jackson, WY) to give you complete access to these parks and their wonders. 
Availability for this tour is dependent on hotel availability in the region for your requested dates.  If the preferred hotels do not have availability at the time of booking, we will offer you alternatives or refund your deposit.  We recommend booking in advance to ensure that we can secure your preferred dates. 
Our 5-day Yellowstone and Grand Teton Safari is offered from mid May to mid October and will focus on a comprehensive experience of both National Parks and surrounding towns. Our Naturalist Guides will aim to find as much of the Greater Yellowstone Region's thriving wildlife populations as possible, and throughout the tour there will be abundant opportunities to view the most sought-after species, from predators like grizzly and black bears and wolves, to ungulates like bison, elk and moose. Our guides will highlight these experiences with Vortex binoculars and spotting scopes, and ample interpretation for our guests, for an intimate, educational experience.
Our five-day Safari will also highlight more of the volcanic, geologic, and natural features to be found within Yellowstone and Grand Teton Parks off-the-beaten-path. We will showcase many of the 1000's of geysers, mudpots, and hot springs in Yellowstone, as well as explore vast valleys, complex river systems, and offer hands-on experiences of Rocky Mountain splendor in both parks.
Our 5-Day Safaris are private and customizable. The needs, desires, and comfort of our guests are our utmost priorities.  We aim to include as many highlights of both Parks as we can. Our guides are flexible and will lead the journey according to your interests, current wildlife sightings, and weather. We will arrange accommodations on the border Yellowstone and in Jackson Hole to give you complete access to these National Parks and their wonders.
This multi-day tour also allows for more time spent out of the vehicle. Our guides are trained in wilderness safety and are ready to share the wonder of western wilderness with our guests. Hikes and walks ranging from 20 minutes to several hours are available and encouraged for our guests who long to escape the din of people and cars and enter the magnificent wilderness. Secret thermal features, pristine waterfalls, and undisturbed wildlife encounters are daily finds on these journeys.
What's Included
Professional naturalist guide

Use of spotting scopes and binoculars

National Park entrance fees
Private Safari
$11,250 per vehicle for 1-2 guests; $3400 for each additional guest, (plus taxes and fees). Maximum per vehicle, 6 guests. No minimum age. This is a private safari.

Reservations are dependent on hotel availability at the time of booking.
Pickup Information
All of our guests are picked up (and dropped off) at their lodging location.  We pick up in Bozeman, Paradise Valley, Gardiner, Mammoth, Big Sky and West Yellowstone.  When you reserve, we'll confirm your exact pickup time, based on the season, as well as your exact pickup location.
Please allow your guide an additional 5-10 minutes before and after the scheduled pickup time in case of weather delays or traffic conditions.
Approximate pickup times include:
6:00AM Bozeman

6:45AM Paradise Valley
7:30AM Gardiner
7:45AM Mammoth
6:45AM Big Sky
7:45AM West Yellowstone
Itinerary
Day 1
Northern Yellowstone Wildlife Safari
Your guide will meet you at your lodging in Southern Montana and will travel to the legendary Northern Range of Yellowstone National Park. This region is home to robust populations of wolves, grizzly bears, black bears, cougars, coyotes, bald eagles, and more.  You will spend this day exploring some of the most breathtaking landscapes in Yellowstone, such as Lamar Valley, Little America, and the Blacktail Plateau, as we search for a variety of animal species. We will then proceed to our nearby lodging for the evening in Silver Gate, MT, a tiny, quaint mountain town, perfectly poised for the second day of our safari. Your guide will escort you to one of the area's dining establishments for a hearty dinner. You will then have an opportunity for an evening game drive in Lamar Valley, or relaxation time in your room after the long day.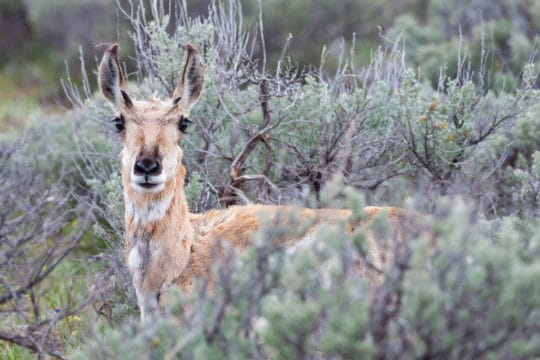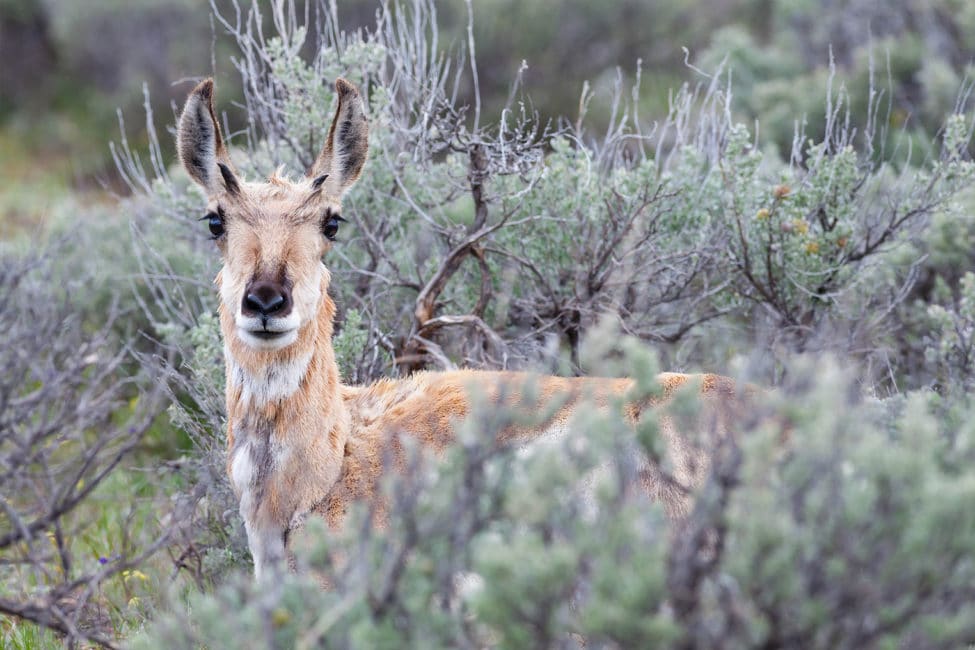 Day 2
Northern/Eastern Yellowstone National Park
We'll aim for an early start today, and dependent upon the latest bear and wolf activity, we'll begin our morning game drive at, or before, sunrise for optimum wildlife viewing. On this day we will traverse Dunraven Pass, enjoying a high-alpine drive and incredible vistas, before descending into the Canyon region. We will focus on the Grand Canyon, its multiple waterfalls and wildlife, before heading towards West Yellowstone for our evening lodging and dinner. Options for this day will be hiking, and the Grizzly & Wolf Discovery Center in West Yellowstone.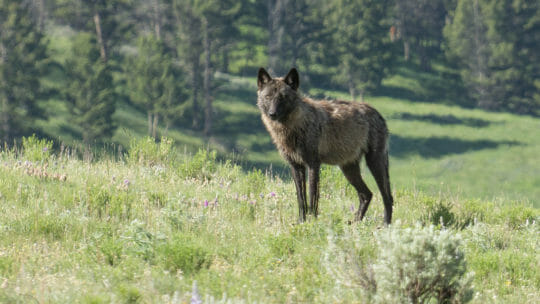 Day 3
Western Volcanic Yellowstone, Grand Teton National Park
On this day we will venture out from West Yellowstone at sunrise to enjoy some of Yellowstone's incredible thermal features before the crowds, including Grand Prismatic, Upper and Lower Geyser Basins and Old Faithful geyser. You can expect several miles of walking on boardwalks to enjoy these features. Afterwards, we will enjoy a stop at West Thumb geyser basin on Yellowstone Lake for Lunch, before descending down into Grand Teton National Park. Your guide will overview the park for you as you head toward your overnight accommodations and dinner in the beautiful mountain town of Jackson, Wy.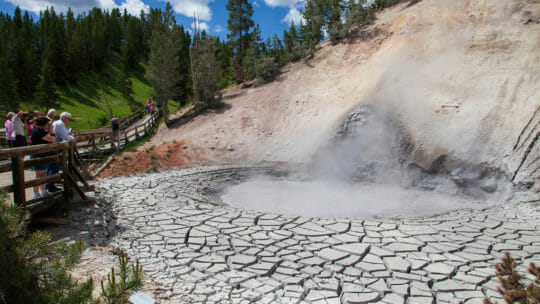 Day 4
Jackson Hole, Grand Teton National Park
One more early rise to enjoy an incredible morning wildlife safari in Grand Teton National Park, with a focus on the Snake River valley and the Tetons themselves who mark this landscape as exceptional. Wildlife will be abundant, and scenery will be awe-inspiring. Your return to Jackson will be prior to lunch, and you will have the opportunity for a free afternoon to pursue another Jackson Hole activity such as horseback riding, whitewater rafting, shopping around the historic downtown district, or a visit to the National Museum of Wildlife Art. Your guide will help escort you to any chosen afternoon venture, and will also accompany you to dinner in town before resting for the evening at the same accommodations.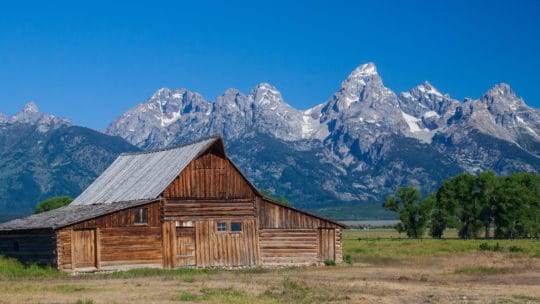 Day 5
Jackson Hole, Grand Teton, Yellowstone National Park
Your choice for this morning will be a morning float trip on the Snake River, or another Wildlife Safari with your Naturalist Guide, to be completed before lunchtime. You will then make your way North again into Yellowstone National Park where you enjoy sweeping views of Yellowstone Lake in the Eastern quadrant, visits to Pelican Valley near Fishing Bridge, and a tour of Northeastern Yellowstone's Swan Lake Flats and Mammoth Hot Springs to finish out your excursion before making your way to Bozeman for the evening's rest and reflection.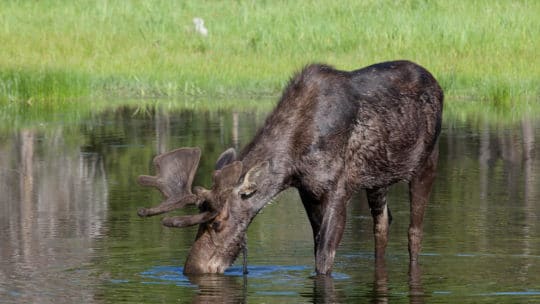 From start to finish, our wildlife safari was a flawless experience. Our tour guide was awesome. SUPER knowledgable and passionate about what he does. I don't think there was a single question he couldn't answer. He also has a real eye for seeing these animals. There was no real "schedule" more-so him asking us what we want to see and doing that! It felt like it was a private tour made just for us.
Haley D.
FAQs
What activities are included in a 5 Day Yellowstone & Grand Teton Safari?
We will cater to any desire and opportunity for wildlife, scenery, and exceptional moments of nature that we can. This means short or longs walks are possible, as well as tandem (optional/additional) activities such as horseback riding and river rafting in the Jackson Hole valley to balance our time in the vehicles and on foot.
How much time do we spend in the vehicle on this multi-day safari?
A longer tour of Yellowstone and Grand Teton National Parks means more time can be spent out of the vehicle than in it. We are enthusiastic hikers and will help our guests have as much of a wild experience as possible, with the addition of mountain towns and their shops, restaurants, and museums.
What do guests have to say about this safari?
This multi-day safari is perfect for guests hoping for a fuller, in-depth experience of our entire region. We have ushered couples, families and friend groups on these safaris and have had incredible experiences with all ages and abilities. Our review speak for themselves!