Overview
Yellowstone National Park forms the core of the Greater Yellowstone Ecosystem, with one of the highest levels of wildlife diversity in North America. Our full-day private safari endeavors to highlight the hundreds of species of animals and plants that call this place home by utilizing the vast knowledge and experience of our naturalist guides.  
Our safaris begin in the early morning hours to give us the best opportunity to view wildlife movement. We often enjoy herds of bison and elk grazing in meadows and valleys, while keeping an eye out for apex predators like wolves and grizzlies casually on the prowl. You may end up enjoying a hot cup of coffee while watching an osprey catching fish in the Yellowstone River, or a moose browsing on red-barked willows in Lamar Valley.  It's easy to admire the many waterfalls in the Grand Canyon of the Yellowstone as they roar over volcanic cliffs, while bighorn sheep navigate the rocky terrain in the distance. We may enjoy an intimate viewing of a peregrine falcon nest or possibly a black bear couple courting up high in the branches of a 500 year-old Douglas fir tree. Every single day out in Yellowstone brings a new revelation, and therefore the safari is truly a journey without end. 
Our guides provide not only the understanding of wildlife habits, but also the story of their importance on the landscape. Throughout the day as you ride in our comfortable vehicles, your guide will educate and converse with you about the incredible ecosystem that is Yellowstone. They will also be attuned to all our guests needs and desires, and will plan accordingly for walking, viewing, picnicking and moments of wilderness solitude.  The use of optics such as binoculars and spotting scopes makes for incredible and personal moments of connection with this enigmatic, wild place. Your guide is at your service to help you have the best experience from start to finish. 
Your exact route and itinerary will be determined by your interests, current wildlife sightings, and current weather and road conditions.  Our guides are all highly experienced, with thousands of hours in the field, and will expertly tailor your safari to you and your group.
Yellowstone is special amongst our public lands in that it is home to all notable animal species that were present when European explorers first traveled through this area.  Each season allows for unique focus and special experiences accordingly. Spring brings new life from every corner of the land. Mother bears traverse meadows with their vivacious cubs or yearlings. Wolf pups emerge from dens and show off new tricks for their family. Tiny bison calves entertain with orange-colored exuberance. Elk mothers guard their calves as hungry grizzlies attempt to steal one away. Higher elevations are still blanketed with snow, and our safaris concentrate on the meadows and valleys of the Northern Range.
Summer brings abundance and dispersal. Life spreads out over all the green fields and forests of Yellowstone as heat rises and days lengthen. Herds of ungulates move into the shade and predators shift to new areas for their somewhat slow and languid season. The often-tepid herds of bison become suddenly and incredibly active, as they court, fight and mate in the wild and violent rut season. Our safaris spread out in order to follow wildlife and the events that drive their lives. In the summer, our safaris explore the eastern parts of Yellowstone including Hayden Valley, Dunraven Pass and Lamar Valley.
Fall brings cooler temperatures and unique wildlife viewing opportunities. The sparse deciduous trees of cottonwood, aspen and willow adopt a striking color change to the delight of photographers. Animals and birds start to prepare for winter. Impressive bull elk bugle to advertise their prowess and attract their harems of females, fighting away competitors in the hours of dawn and dusk. Beavers reinforce their dams against impending ice, and great migrations of geese, waterfowl and raptors move out of the region. Bears gorge on berries before their deep winter sleep, and a calm settles over the Park in anticipation of winter. Our winter safaris begin in earnest as winter casts her blanket and a truly special season begins.  
What's Included
Professional naturalist guide

Private or small group safari

Use of spotting scopes and binoculars

National Park entrance fees
Open Safari
$295 per guest. Maximum per vehicle, 6-8 guests. This is a mixed group safari.
Private Safari
$795 for 1-2 guests; $225 for each additional guest. Maximum per vehicle, 6-8 guests. This is a private safari.
Pickup Information
All of our guests are picked up (and dropped off) at their lodging location.  We pick up in Bozeman, Emigrant, Gardiner, Mammoth and Canyon.  We'll confirm your exact pickup time based on the season as well as your exact pickup location.
Please allow your guide an additional 5-10 minutes before and after the scheduled pickup time in case of weather delays or traffic conditions.
Approximate pickup times include:
6:00AM Bozeman

6:45AM Emigrant / Paradise Valley

7:00AM Gardiner

7:00AM Mammoth Hot Springs

7:30AM Canyon Village
We've been to Yellowstone many times but never did the 'northern loop'. What a great experience! So much more wildlife in the north. Saw grey wolves and their pups - bison of course but also elk, mountain goats and even a great horned owl. Our guide was great! He was very knowledgeable and ensured we had a thoroughly enjoyable day. We will definitely come back!
Bill L.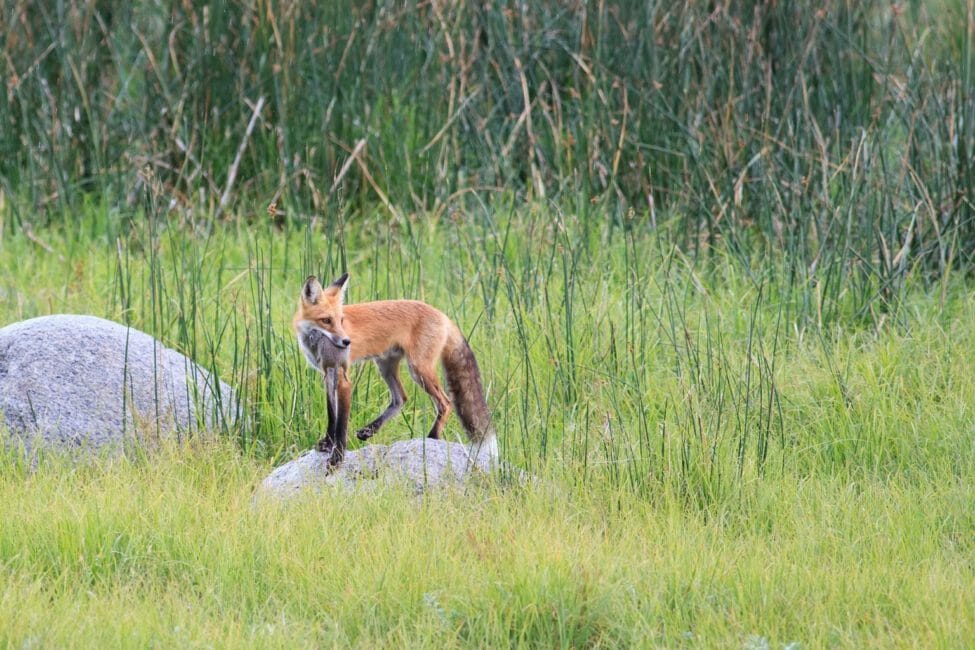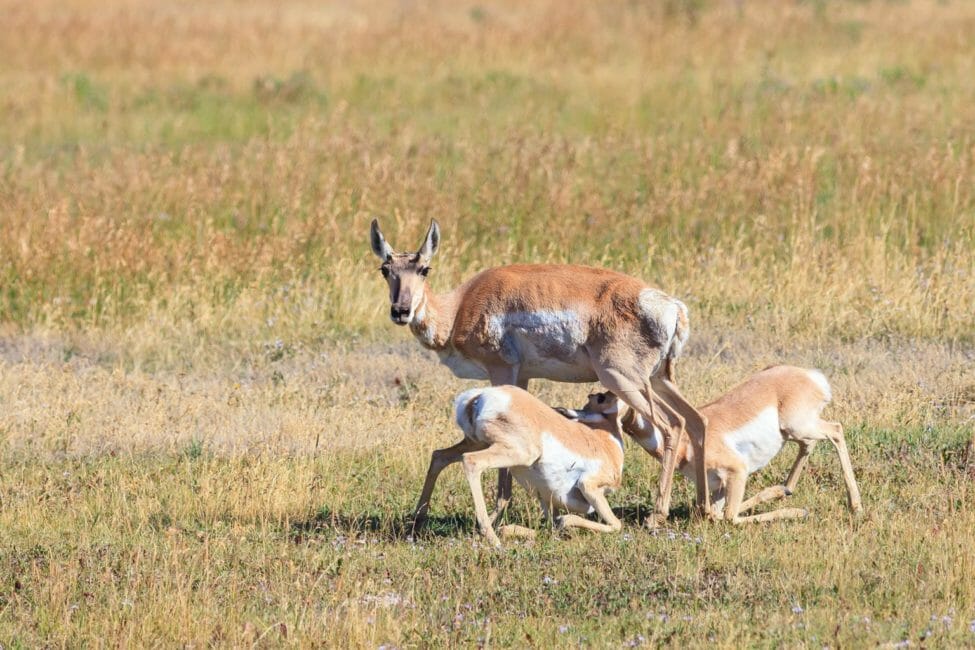 FAQs
What is your cancellation policy?
We have a 48-hour cancellation policy for all single day wildlife safaris.  Cancellations made before the cancellation policy goes into effect will receive a full refund.  Cancellations made within 48 hours of departure, and before the day of departure will receive a 50% refund.  Cancellations or no-shows on the day of departure will not be refunded.  We strongly recommend travel insurance in order to protect you from unforeseen travel interruptions that prevent you from joining us.
What should I bring?
We will step in and out of vehicles during our safari tours so you'll want to wear comfortable shoes that allow you to walk on uneven surfaces, like gravel, or a boardwalk.  Stepping in and out allows us to make the best use of our time in Yellowstone National Park and gives us the best wildlife viewing and photo opportunities.  Your guide will have binoculars and spotting scopes for you to use, but do not forget to bring your camera!  While Yellowstone has some modern facilities, we are going to be traveling through remote areas of a National Park.  Please remember to being any personal items, like medication, that you may need during the day.
What should I wear?
The rocky mountain range can see drastic temperature swings during the day, even in the summer months.  Please come prepared!  For clothing, synthetic layers are best in our mountain environment.  Base layers act as a wicking layer against the body, so we recommend anything from a light weight layer to an expedition weight layer, depending on the season.  A mid layer provides warmth, so we recommend a mid weight fleece layer or softshell jacket for the upper body and a pair of travel pants or jeans for the legs.  The outer layer provides protection from the elements and serves as a wind/water blocking layer.  A waterproof shell for your upper body will keep you dry and therefore, warm.  For the legs, we recommend either weatherproof rain or snow pants, depending on the season.  You may not need an outer layer during the warm summer months with no rain forecasted, but it is still a good idea to bring it with you.  Conditions can change quickly.  Your footwear should be comfortable and appropriate for the season.  For the summertime, walking shoes or hiking boots are a great choice.  Please avoid wearing flip-flops.  For winter, snow boots with wool socks will keep your feet warm.  For winter, you'll also want to bring a wool, or fleece, hat, as well as mittens/gloves to keep your hands warm.  In the summertime, a light hat with a visor is all you'll need on your head.  In any season, do not forget sunscreen or sunglasses.  At high altitude, the sun's rays are intense, even in winter.
More Adventures
Keep Exploring