Overview
Expand your adventure across Yellowstone National Park's most exclusive landscape, and take a deeper dive into America's wildest winter wonderland.
Our 2-Day Winter Wolves and Wildlife Safaris expose you to a wintry world dominated by North America's most durable dominions.  In an ecosystem frozen over with snow and ice, Yellowstone's most enduring residents compete with the elements, and each other, in an epic effort for survival.  This ecosystem's colossal herbivores, like bison, elk, and moose, descend on the lower elevations of the Northern Range to forage, drawing Yellowstone's most emotive apex predator, the gray wolf, along in hot pursuit.  Winter is quite possibly the most reliable season to witness wild wolves in Yellowstone National Park, and more than winter's chilly bite, the astonishing experience of watching wolves engage with this extraordinary environment might just take your breath away.
Our wildlife safaris are completely customizable.  The needs, desires, and comfort of our guests are our utmost priorities.  We aim to include several highlights that Yellowstone is famous for in our itinerary, such as visiting Mammoth Hot Springs, exploring Lamar Valley, and welcoming other impromptu experiences.  Our guides are flexible and will lead the journey according to your interests, current wildlife sightings, weather, and road conditions.  We will arrange accommodations on the border of, or within, Yellowstone National Park to give you complete access to Yellowstone, and its wonders, over the course of two days, in every condition.
With the use of the binoculars and spotting scopes provided to you, we can allow for animals to move across the land undisturbed, and we can observe authentic wild behaviors that unfold before us.  Your professional naturalist guide is there to interpret the events taking place, and share their in-depth knowledge of these intimate experiences.
A multi-day tour also allows for more time spent out of the vehicle. Our guides are trained in wilderness safety and are ready to share the incredibly special backcountry of Yellowstone National Park. For guests looking for a true wilderness experience, we offer the use of our snowshoes on our two-day tours. For first-timers or seasoned snowshoers alike, this is a wonderful way to see winter ecology and enjoy the quietude of snowy landscape. Our guides will offer 1-2 hour excursions in a range of interesting habitats.  Wildlife tracks, frozen waterfalls, or thermals sending plumes of steam up from the Grand Canyon's rocky walls are common finds on these journeys. Up close and personal wildlife encounters are also possible, and will showcase the lives of wild animals away from the din of roads and people.
What's Included
Professional naturalist guide

Use of spotting scopes and binoculars

National Park entrance fees
Private Safari
$3350 per vehicle for 1-2 guests; $950 for each additional guest, (plus taxes and fees). Maximum per vehicle, 6 guests. No minimum age. This is a private safari.

Reservations are dependent on hotel availability at the time of booking.
Pickup Information
All of our guests are picked up (and dropped off) at their lodging location.  We pick up in Bozeman, Livingston, Emigrant/Paradise Valley, Gardiner, and Mammoth.  We'll confirm your exact pickup time based on the season as well as your exact pickup location.
Please allow your guide an additional 5-10 minutes before and after the scheduled pickup time in case of weather delays or traffic conditions.
Approximate pickup times include:
7:00AM Bozeman

7:30AM Livingston

7:45AM Emigrant / Paradise Valley

8:30AM Gardiner

8:45AM Mammoth
Itinerary
Day 1
Yellowstone National Park
Your guide will meet you at your local accommodations, and you'll travel to the legendary Northern Range of Yellowstone National Park.  The Northern Range is considered among the most wildlife-rich ecosystems in the United States, home to thriving populations of wild wolves, bison, elk, coyotes, cougars, bald eagles, and much more.  You'll spend the day exploring some of the most breathtaking landscapes in the park, such as Lamar Valley, Soda Butte Valley, and the Blacktail Plateau, as we search for Yellowstone's most iconic animal species.
Depending on current wildlife patterns, we can opt for an early dinner with evening hours in the National Park or you can opt for some time to relax at our evening accommodations.  Your guide will escort you to one of the area's local dining establishments for a hearty dinner, and then the conclusion of the evening is yours for resting and relaxing.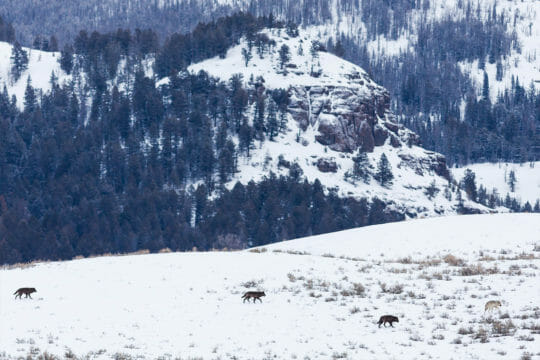 Day 2
Yellowstone National Park
We will endeavor for an early start, and dependent upon the latest wolf and wildlife activity, we'll begin our morning game drive at, or before, sunrise to put us in prime habitat during this peak activity period.  We will use current weather and wildlife movements to organize our day.  We will have numerous opportunities and options for hiking, snowshoeing, and exploring along the way.  We will make a point to visit Mammoth Hot Spring, one of the National Park's most unique geothermal features.  We will return you to your choice of lodging in the early evening, in time for you to enjoy dinner on your own and continue on with your vacation.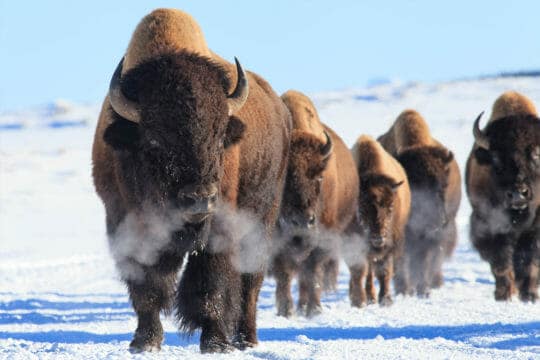 Bison, wolves, sheep, birds, eagles, fish, you name it! We had a great tour guide. My husband and I enjoyed our 2 day safari in North Yellowstone. We saw lots of wildlife and beautiful scenery.
Myra F.
FAQs
What should I pack for a two-day stay in Yellowstone?
Winter is cold in northern Yellowstone, so you'll want to pack warm clothing that you can layer effectively to keep yourself warm and dry.  An outer waterproof and windproof shell is recommended, paired with a midweight or expedition weight layer of wool or synthetic material for warmth.  A lightweight wool or synthetic base layer should sit against your skin to help keep you dry – a fleece vest isn't a bad idea to have on hand either.  Dressing in layers allows you to easily add a layer or remove a layer to keep comfortable.  You'll need waterproof winter boots with traction so you can walk in the snow without getting your feet wet.  You should wear wool socks in your boots to help keep your feet warm and dry.  Bring a fleece or wool hat as well as a warm pair of mittens or gloves.  A buff or a scarf is nice to have on hand to keep the chill off when it's windy.  A small day pack might be handy to have so you can keep your items, like a camera, water bottle or snack, handy throughout the day.  Make sure to bring any medications or toiletries you might need to have with you.  If you carry any medicine for emergencies, you'll want to be sure to take it with you during the day.  A book to read and some cozy slippers are nice to have as you settle in for a long dark evening in the northern range.
What should I wear during the winter at Yellowstone?
You'll be in and out of the vehicle throughout the day.  To stay comfortable, you'll need to stay dry.  Wear your waterproof shell while you're outside, but take it off while you're traveling in the van.  You can add or subtract your mid-layers as needed, choosing thicker wool or synthetic layers if you are cold, or choosing midweight layers if you tend to run warm.  Pack a fleece vest in your day pack as an optional item if you just need a small adjustment throughout the day to stay warm.  Make sure your feet are staying dry in your boots with comfortable wool socks.  Bring an extra pair of socks in your day pack if you need to make a switch halfway through the day.  A warm hat and mittens / gloves will keep your extremities warm if there's a wind or if the day is exceptionally cold.
More Adventures
Keep Exploring