There is a special magic that seems to only exist on the surface of freshly fallen snow—you know the feeling: whispering wind, soft silence, peace. During the winter in Yellowstone this magical aura is yours for the taking. But not all is calm in the wilderness; enter the wild side of the wonderland of Yellowstone National Park in winter by adventuring on a wildlife safari—an inspiring experience where you'll be able to watch for wolves, follow bison through the snow, and hike to stunning frozen waterfalls. The increased elevation won't be the only thing that takes your breath away.
What to Expect  
Choose from a Snowshoe Safari, Winter Wildlife Safari, or Winter Wolves and Wildlife Safari, all of which offer an unforgettable and wondrous experience surrounded by Mother Nature's purest beauty. You can opt in for just a half day of snowshoe adventuring from Big Sky, the perfect way to dip your toes into the snow and learn about your surroundings while taking some striking photographs. These tours are offered both in the morning and afternoon. 
If you're ready for more, go all the way with a three day extravaganza that allows you to truly be immersed in the wilderness. Witness thermals releasing plumes of steam, unique wildlife tracks and maybe even a bear coming out of hibernation. But, the animal that comes most prepared to the party is the gray wolf as they grow additional fur on their paws in the winter to be able to more swiftly chase down their prey. They have evolved to be able to thrive in the winter in a climate as cold as Yellowstone so if you're hoping to spot one, you have come to the right place. Each unique adventure is led by a highly-trained, experienced and knowledgeable guide that will offer your group the history of the area, information about the wild species you see, and fun stories and facts about the excursion. Because the exact route and itinerary is personalized to your group's specific interests, you'll always be excited for more. Ever dreamed of seeing an ermine? Or even a moose or mountain lion?  Start your winter adventure here.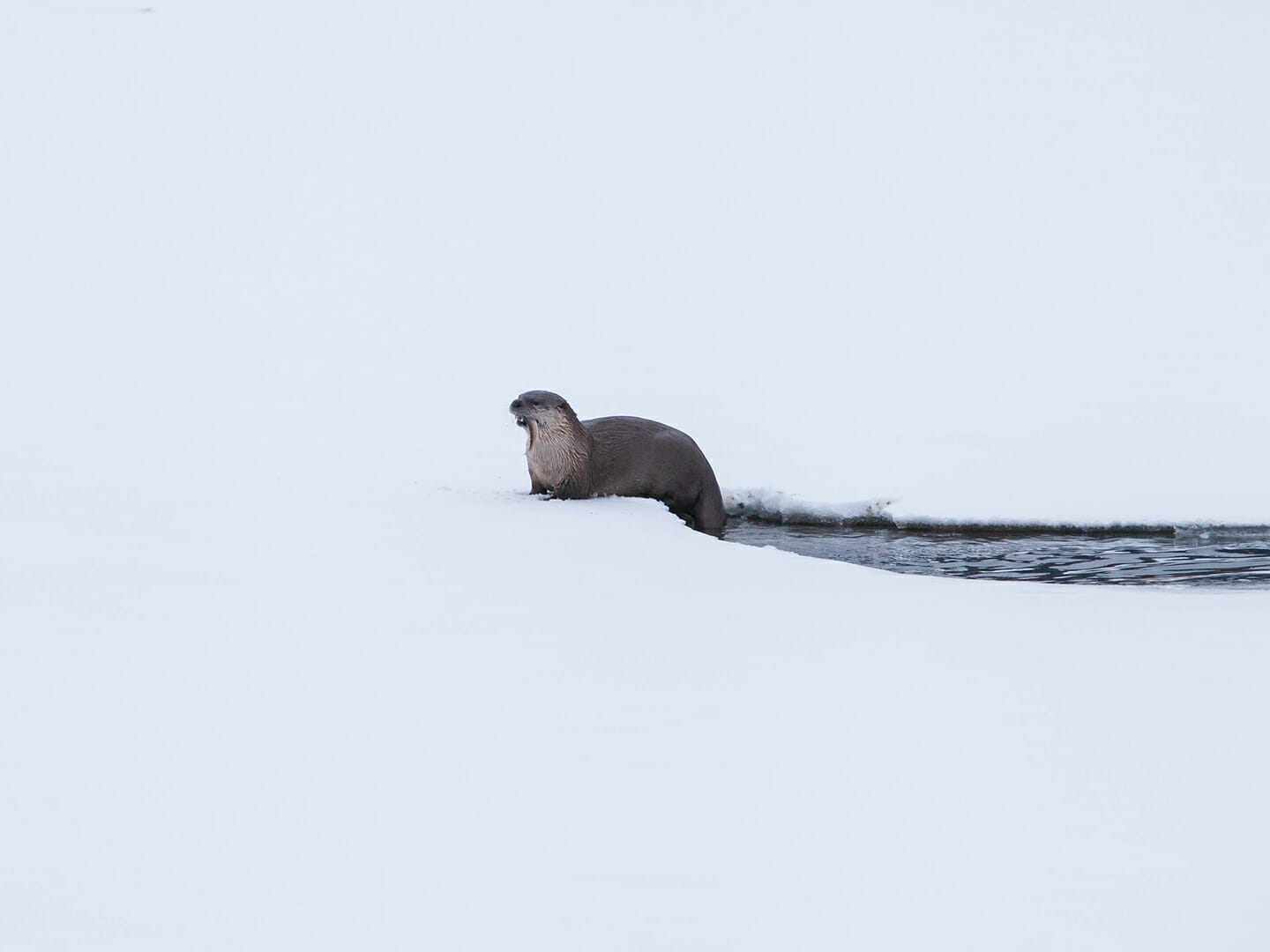 Preparing for Your Visit
Winter for humans may be a time for cozying up in front of a fire in fuzzy socks and a good book, but in the wild, the season offers so much more to explore. Because 300 miles of park roads are closed to non-snow vehicles at this time, the chill in the air offers additional exclusivity and intimacy to the beauty of the thriving natural habitat from November through April. With a winter visit to Yellowstone, you'll be able to experience the park like few others ever have. As typical tourist visitation slows, lodge planning becomes easier, attractions become more private, and the park quiets as it waits for you. So go ahead, grab your favorite winter hat and boots and jump into the snow—you'll surely see something as rare and beautiful as an angel along the way.
Explore Yellowstone National Park
Guided Tours