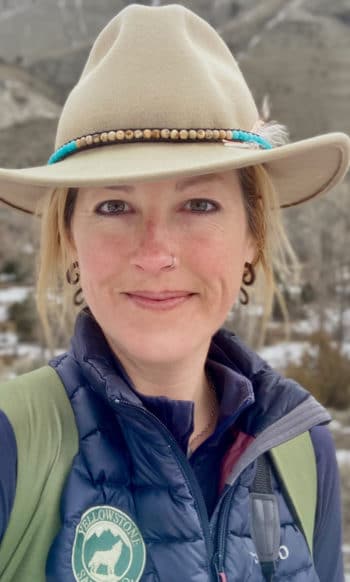 On tour with Ash, she will release the aroma of sage, engaging the senses, as she tells the story of the pronghorn that are now visible, igniting interest and awe in the history of the Rocky Mountain West.  No moment is too big or too small, whether it's a grizzly bear sighting or trumpeter swans on a lake, Ash meets each moment with intelligence and excitement making each encounter memorable.  Her joy comes from connecting humans to nature in order to preserve and protect wild spaces by tying together the past, present and future of the Greater Yellowstone Ecosystem.
Certifications
Certified Interpretive Guide | National Association for Interpretation

Nature-Connected Leadership | Earth-Based Institute

Wilderness First Aid & CPR

Outdoor Guide Certification | University of Wyoming

Level II Wildlife Track & Sign | CyberTracker
Bio
Ash's personal connection to the Greater Yellow Ecosystem began in her childhood growing up in the Jackson Hole Valley. Ash was born in Laramie, Wyoming. Her connection to the land goes back many generations in the West. Her great-grandfather was a Cavalry Ranger manning the southern entrance of Yellowstone catching poachers for four years before the National Park Service was created. In 1916 he moved to the Jackson Hole Valley and her family has remained there since. Ash spent her youth watching the elk rut in autumn evenings, catching rainbow trout in cutbanks of the Snake River and snowshoeing in deep snow looking for martens and hare. After all these experiences there was knowledge to be gained through her parent's extensive library on flora, fauna, and local history. Ash's passion and appreciation of the Greater Yellowstone Ecosystem has continued to grow throughout her life.
After gaining a neuropsychology degree from Willamette University Ash spent time in Kenya learning about ancient, indigenous living and unfettered wild landscapes. Marrying her love of the outdoors with her schooling she began to understand the multi-faceted effects nature has on the mind and body. Ash went on to become certified in Herbalism learning more about plant medicine and botany. She began to focus on experiential learning and teaching while guiding hikes in the desert southwest.
In 2020 Ash moved from Jackson to Bozeman to further her career as a guide by becoming the manager of Yellowstone Safaris. One of her passions is to elevate the status of guiding. She co-wrote a guide training program in the spring of 2020 through the University of Wyoming. Ash is working to change the old model of seasonal guiding by replacing it with a more sustainable, functional way for passionate, and educated guides to find stability.
Ash has also developed relationships with native peoples of Montana to further indigenous sovereignty. Yellowstone Safaris has donated safari vehicles through the World Wildlife Fund to Montana native peoples to enhance their pursuit of eco-tourism. Wildlife conservation and maintaining the integrity of public lands is an individual as well as a team effort of Yellowstone Safaris. While being a manager, Ash's true passion is highlighted outside in the park, sharing her knowledge and experience with guests. Her joy comes from seeing guests have their moments of awe and wonder while witnessing something unique and extraordinary in nature.
Education
B.S. Neuropsychology | Willamette University
We visited the park on Christmas Eve, with almost the full park to ourselves. It was an unforgettable experience made by our guide, Ash. Ash is passionate as a naturalist and took time and detail in informing about wildlife while on the way and once inside the park. The park was a winter wonderland and although we didn't spot wolves, she went out of the way to spot wildlife for us to take ample pictures of park and wildlife. We saw an abundance of wildlife in the park and had a very fulfilling experience thanks to Ash and Yellowstone Safari Co in making this a lifetime of memories.
Dallas, Texas
Further Reading
Restoring Buffalo Herds to the Land and to the People
Ash Tallmadge
It is late morning, and the open prairie is awash with pastoral smells, pungent to our noses and stinging to our skin. The wind is blowing a fine dust across our eyes as we watch a herd of 35 buffalo begin to lope toward a huge bale of hay we have just laid down for them. Their hooves throw more grit and dung into the air until they are almost hidden by the haze.
The Matriarch
Ash Tallmadge
Her coffee-brown fur flows over her body like a wave when she swings her legs around in her distinctive slow gait, and a blond stripe down her right flank catches the sun with each undulation in a flash. Her 5-inch claws rake over the glacial soil as she moves, always at the ready to serve her need for sustenance. Her square nose hugs the ground with concentration, sniffing casually, her rounded ears perked, but calm. Her eyes are adjusting to the light after so many months in her den, but her blocky head is constantly turning to take measure of her four tiny followers, miniature versions of herself, romping through the grass. She is surveying her landscape as she does every year, for she is a Matriarch in totality.
Guide Favorites
Keep Exploring