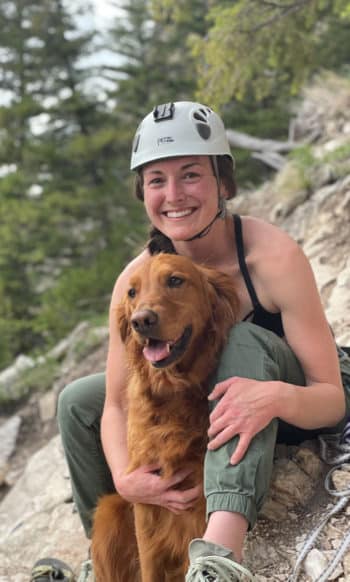 Gabrielle draws her guest's attention to the sunrise illuminating the Gallatin Range.  The light is stunning as it awakens the landscape.  The bison come into view, and it is as if no one else exists.  This is how life has always been, and will always be, here in the Greater Yellowstone Ecosystem.  Gabrielle thrives on sharing these gorgeous morning moments with her guests.  Getting down to Artist's Point on the south rim of the Grand Canyon of the Yellowstone, the crowds have started to gather but now the awe is collective.  The majesty of Yellowstone is meant to be shared.  Gabrielle shares the history of the park, and the stories of all the peoples and animals that have gathered on this land and takes her guests back in time, leaving them with a deeper understanding of the singularity of an animal moving across the landscape.
Certifications
Level I Wildlife Track & Sign | CyberTracker

Wilderness First Aid & CPR

B.S. Psychology | Michigan State University
More Adventures
Gabrielle's Favorite Safari Tours
Full Bio
Gabrielle grew up in Michigan, with a deep love for the animals around her.  She attended Michigan State University and graduated with a BS in Psychology with a focus on pre-veterinary medicine.  She started as a Vet Tech in Michigan but soon moved west to Montana where she began working for a prominent Veterinary Hospital outside of Bozeman, MT.  She found that her love for animals translated well into the Rocky Mountain environment. 
She has worked with animals in many capacities, from working as a shepherd to volunteering at a wolf sanctuary.  She studied behavioral ecology of African mammals in Kenya and Tanzania through Michigan State.  She has extensive experience as a Vet Tech working with large and small animals, including orthopedics.  While interning at the Montana Grizzly Encounter, (a grizzly bear rescue and education sanctuary), Gabrielle spent time in the wild, using her time off to explore Yellowstone National Park and the surrounding mountains.  Her friendly demeanor, knowledgeable background, and love of Yellowstone and the region has translated well to her position as a guide at Yellowstone Safari Company.      
Awesome day! Our guides Gabrielle and Lucy were the best! Very knowledgeable and engaging. Very accommodating! Would highly recommend!!!
Lisa P.