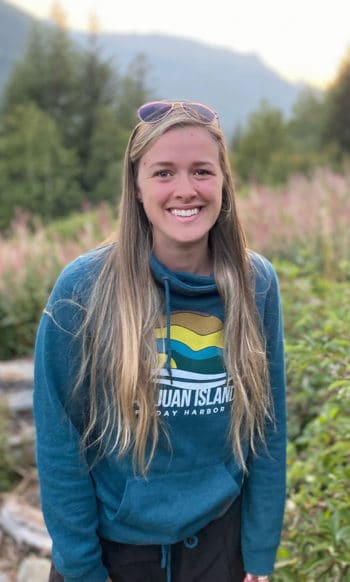 Kelsey has always had a passion for wildlife and wild places.  From her childhood adventures in the forests of Oregon to her current home in the northern rockies of Montana, her experiences have provided her with a broad education in wildlife and habitat.  Kelsey draws on her formal training and experience to provide a fun and engaging tour for each one of her guests.  She feels most at home and alive outdoors, and loves sharing her passion for nature, wildlife and outdoor recreation at any chance she gets.
Certifications
Wilderness First Aid & CPR

B.S. Fish & Wildlife Ecology | Montana State University

Emergency Medical Technician | State of Montana

Level II Wildlife Track & Sign | CyberTracker
More Adventures
Kelsey Jo's Favorite Safari Tours
Bio
Kelsey grew up in Oregon where she spent most of her childhood exploring the forests in the shadow of Mt Hood. In high school she began working at a summer camp and outdoor education facility in Washington where she spent her time helping kids learn water sports, exploring nature and learning about marine life on the Puget Sound. She attended Montana State University where she earned a BS in Fish & Wildlife Ecology and fell in love with the Northern Rockies.
In 2015 she studied marine sciences and tropical conservation at the Universidad de San José in Costa Rica where she worked on several research projects, including a jaguar migration project, coral reef surveys and amphibian studies in the cloud forest. Wanting to gain a better understanding of animal behavior, she worked as a zookeeper at a rescue zoo in Austin, TX. Her love for animals lead her to work with a wide variety of mammals, reptiles and birds.
In the summer of 2022, she fulfilled a lifelong dream to hike the Pacific Crest Trail- 2,650 miles from Mexico to Canada.