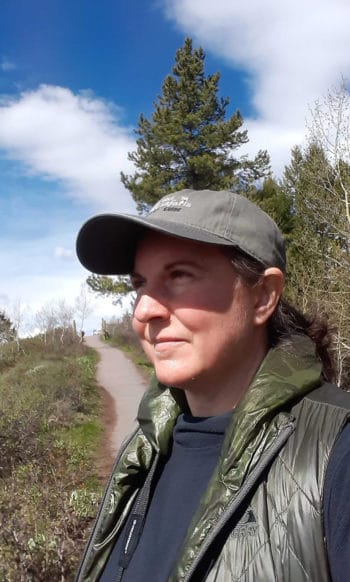 Rae has always had a love of nature.  Her formal education gave her the opportunity to study animal behavior and she put her skills to use at her first job – as a trail guide where she taught about horse biology and behavior.  During graduate school, Rae used her animal behavior and biology background to help research and improve the communication of science to people.  As a professional naturalist, she gets to combine her love of education and her love of the natural world and share this amazing place with visitors.  Rae first explored the Greater Yellowstone Ecosystem while on vacation.  She then sold her business and moved west, first working in Grand Teton National Park before finding her groove guiding wildlife tours based out of Jackson Hole and now Bozeman, Montana.
Certifications
Wilderness First Aid & CPR

Outdoor Guide Certification | University of Wyoming

B.A. Biological Anthropology | University of Wisconsin

M Ed. Math Science and Technology Education | Ohio State University
More Adventures
Rae's Favorite Safari Tours
Full Bio
Rae grew up playing outdoors and watching animals in nature. Her first job was as a trail guide for horse rides through Wisconsin state forests, where she also began teaching about horse biology and behavior. As an undergraduate, she studied monkey behavior and became a certified dog trainer and behavioralist. She continued teaching about animals and behavior in nontraditional settings, like zoos, humane societies, and summer and online programs for kids.
During graduate school, she studied chimpanzee learning and how scientists can communicate science better. Having come out west for vacations, she became smitten with the Greater Yellowstone Ecosystem, and, after selling a restaurant business of 11 years, she moved out and worked in Grand Teton National Park for a summer and started guiding wildlife tours the following winter. When not guiding, she can be found hiking, looking for both animals and wildflowers.