Visiting Yellowstone in the winter is unlike anything you've ever done before. There's a stillness that settles over the ecosystem as it's blanketed with ice and snow. While the park is filled with calm, that doesn't mean activities halt for the season. From daring wolf-watching excursions to snowshoeing treks to once-in-a-lifetime photo moments, there's always an adventure to be had during a winter in Yellowstone. If this sounds like something you'd like to experience for yourself, read on to learn more about our top 5 winter activities to do in Yellowstone National Park!
Wolf Watching
Did you know that wolf sightings are most likely to occur during the winter months?  They're easier to spot against the backdrop of snow than any other time throughout the year. At Yellowstone Safari Company, we offer various winter safaris that focus on delivering our guests the best possible wolf-watching experience. Our naturalist guides are acquainted with wolf-pack territories and their engaging pack dynamics and will share this knowledge with you. So gear up and watch these majestic apex predators as they hunt, play, feed, and howl against a vast backdrop of white.  For the best opportunities at seeing wolves during your visit, plan a multi-day winter tour with us so that we can spend time in the field, searching for and watching these amazing animals interact with the landscape.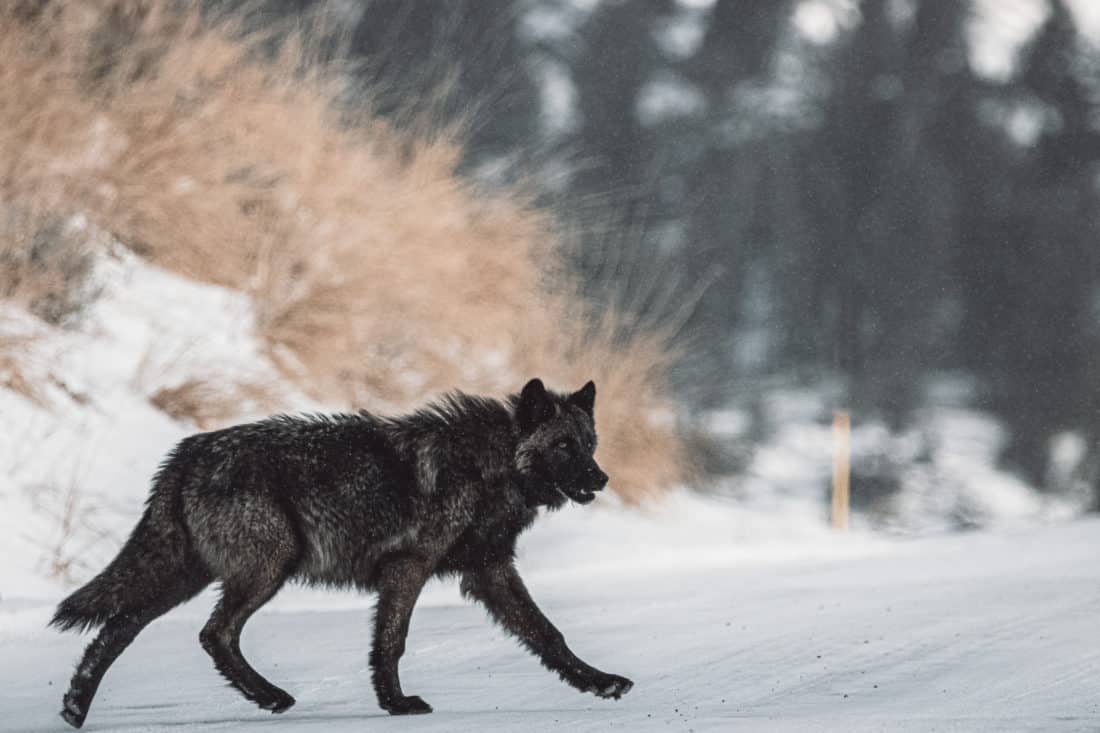 Snowshoeing
Want to experience the wilderness up close? Snowshoeing is a beautiful way to level with nature, eye-to-eye. Though winter can seem like a daunting time to walk in the woods, it is one of the most rewarding. Our Snowshoeing Safari takes adventurers on a trek to explore the environment in an in-depth, hands-on way. Your expert naturalist guide will interpret what you find and what you see, and you may be surprised with the story that arises.
Wildlife Photography
Some of the most awe-inspiring and unbelievable shots of the Yellowstone ecosystem happen during the winter months. Take your camera along on any of our safaris and get ready to shoot the majestic scenery before you!
Skiing
Whether you're cross-country skiing or downhill skiing, there's a place for you to enjoy your sport in the winter wonderland of Yellowstone National Park. The Greater Yellowstone Region boasts numerous world-class mountain resorts for skiers and snowboards of all skill levels, as well as miles of trails immersed in wilderness for our cross country skiers.
Visit the Hot Springs
Yellowstone contains most of the world's known geysers, with approximately 500 geysers and over 10,000 thermal features across the park. While there is a chance you could stumble across one during your cross-country skiing or snowshoeing excursions, if you want to ensure a hot springs encounter during your trip to Yellowstone, plan on stopping by Mammoth Hot Springs for a look at the terraced springs on the north side of the park.   For a chance to soak in some springs yourself during your visit, you can check out Yellowstone Hot Springs in Gardiner, MT.  
Plan Your Visit
When it comes time to book your Yellowstone visit, it's best to find a company that has a variety of options that are also easy to book. Yellowstone Safari Company has tours suited for every interest. From multi-day excursions to observe the best of Yellowstone National Park's wildlife and snowshoeing/walking tours to taking in the scenery to easy day trips and hiking tours, there's truly something for everyone.
Contact the team today to learn more about some of the best Yellowstone tours offered by Yellowstone Safari Company.
Learn About Our Winter Wildlife Tours
Yellowstone National Park