One of the most common responses that I hear when I tell my summer-time clients about our winter wildlife safaris is: I didn't even know that Yellowstone was open in the winter!  Not only is Yellowstone open, but winter is arguably one of the most spectacular times to visit! Grant Johnson, Professional Naturalist Guide
Winter in Yellowstone National Park
Yellowstone National Park is a place that you have to experience multiple times, and better yet, over multiple seasons.  Not only is the National Park huge, sprawling over 2.2 million acres, but every season is so remarkably unique that you simply can't say that you've "done Yellowstone" without witnessing the changes and transformations that manifest at various times of the year.  Every season has its highlights to look forward to, but our winter wildlife safaris really boast some of the best that this landscape has to offer.  
Most of our wildlife safari tours, no matter the time of year, focus on exploring the Northern Range of Yellowstone.  The Northern Range is unquestionably some of the best wildlife habitat in the Greater Yellowstone Area, home to more wolves, bison, elk, etc than any other region of the National Park.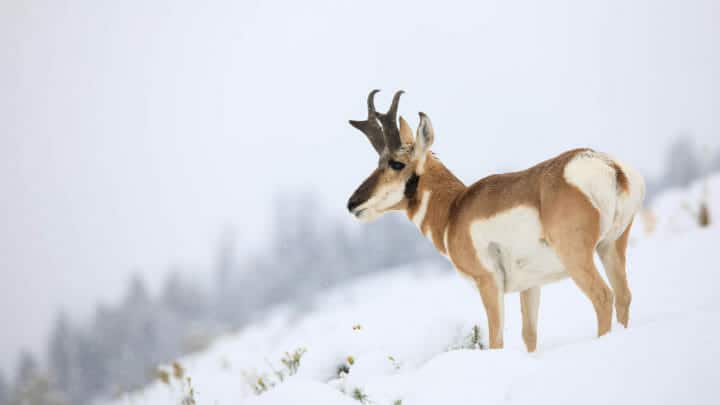 The Northern Range Offers Year-Round Access
As the winter weather stacks up, many areas in the southern part of the National Park, around Old Faithful, become so inundated with snow and ice that the majority of wildlife that live there are forced to migrate to other terrain.  Not only does the southern part of Yellowstone become more inhospitable to wildlife in the winter, but the roads simply become overwhelmed and are impassable except by snowmobile or snowcoach.  From December to April, the only access to the park interior is by over-snow vehicle, and having year-round access to the Northern Range allows us the best opportunity to really revel in the opportunities that each new season presents.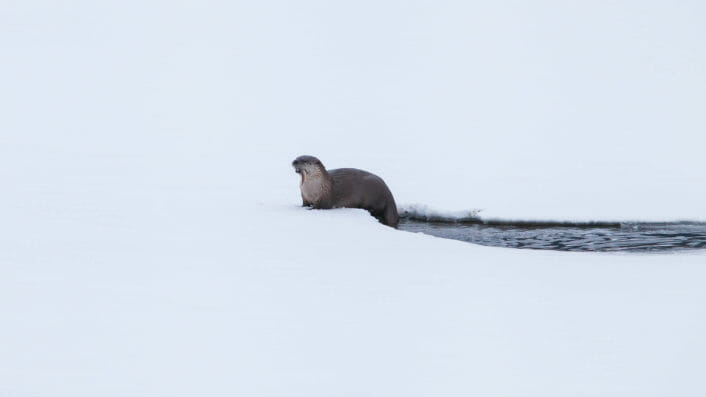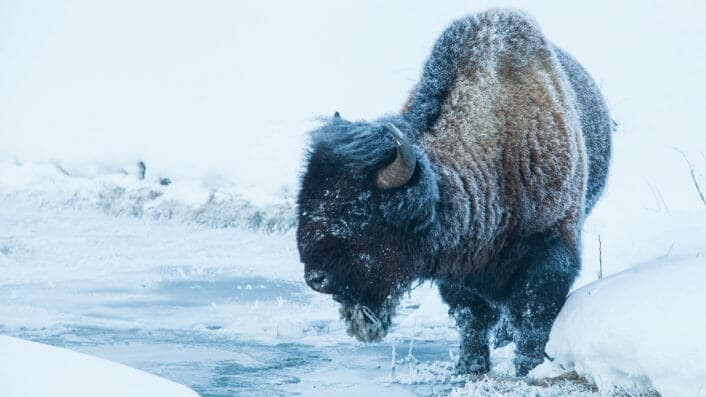 Winter Travel In Yellowstone
On any of our winter wildlife safaris you can expect to see an amazing diversity of Yellowstone's iconic mammal and bird species, from bison to bald eagles, and from wolves to waterfowl.  You can also expect it to be pretty cold.  Make sure to bring appropriate clothing, remembering that layering is the best strategy to stay warm and dry.  It's also important to have suitable footwear on, since there are ample opportunities for hiking, snowshoeing, or just standing in the snow to take in the full sensations of the season.  Fortunately for us, the roadside wildlife viewing during the winter months can be extraordinary, and our custom safari vehicles are more than capable of keeping you cozy and comfortable.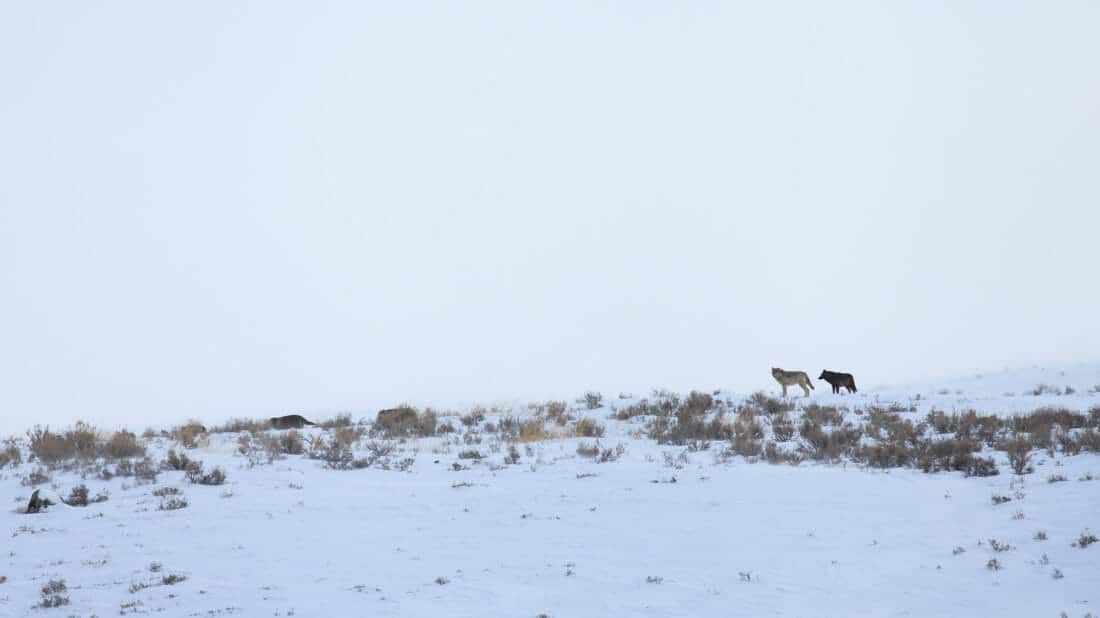 Wildlife in the Northern Range
Yellowstone Safari Co. offers a variety of winter wildlife safari options, ranging from half-day snowshoeing adventures to multi-day expeditions through the Northern Range.  Our headquarters in Bozeman, MT gives us prime access through the North Gate of Yellowstone, and during our winter safaris it's not uncommon for us to have spectacular wildlife sightings before we even enter the National Park.  Extending your safari only increases the likelihood of getting to see Yellowstone's famous wolves, bison, elk, and moose.  We'll also have great opportunities to encounter red foxes, pronghorn, mule deer, whitetail deer, coyotes, mountain goats, and bighorn sheep.  And although rare, winter is the best time to see many of Yellowstone's most elusive animals, like cougars, bobcats, pine martens, and river otters.  We won't be able to navigate you down to Old Faithful, (the road is closed to vehicular traffic), but one of the park's most distinctive and notable thermal features, Mammoth Hot Springs, is accessible during our winter tours.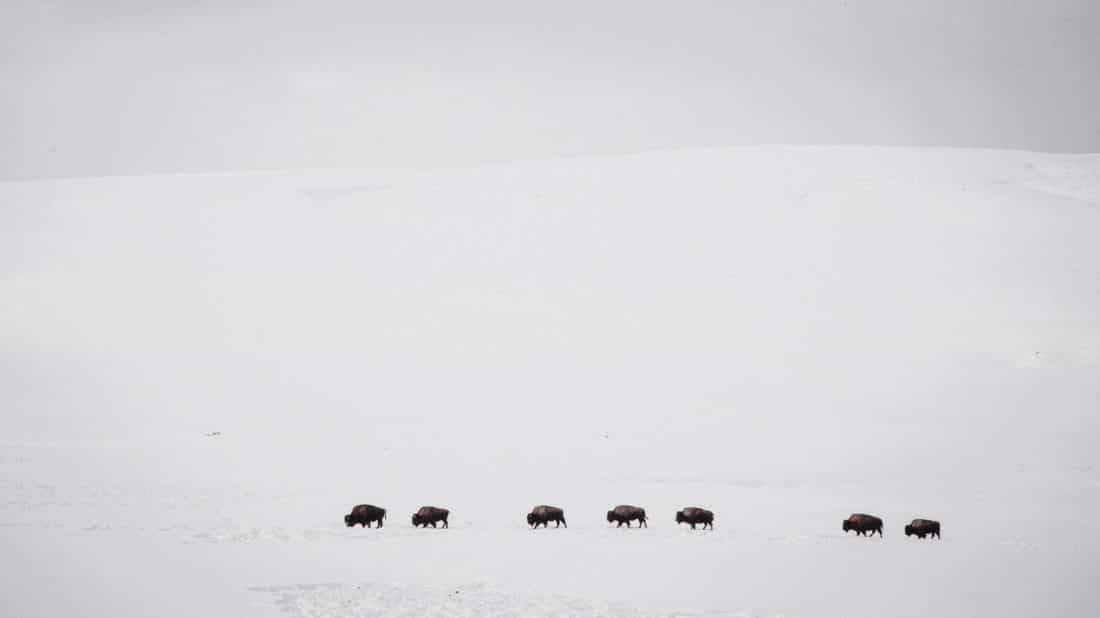 If you've visited Yellowstone National Park during the summer months, now it's time to experience Yellowstone on ice!  Come and see a landscape dominated by wildlife, where the elk and bison greatly outnumber the people on any given winter day, and where wild gray wolves reign over one of the Earth's most cherished and celebrated ecosystems.  The ultimate wildlife adventure awaits you…
Take Me There!
Featured Safaris