For those who are visiting Yellowstone National Park for the first time or returning to this amazing wild place for the first, second, tenth, hundredth occasion- the experience is always one of a kind.  Whether the objective is to observe wildlife, witness geothermal features like the infamous Old Faithful in action or to escape the urban world and immerse oneself in the wonderful wilderness- Yellowstone has the resources to satisfy all these desires.  New and even returning visitors might often ask themselves- how can I make the most of this multifaceted park?  Being 2.2 million acres in size it would take years to explore all Yellowstone has to offer.  There are also new challenges to navigate every coming year, such as increasing visitation, unpredictable weather patterns that can result in catastrophic flooding, the seasonal behaviors of wildlife and the ever evolving conservation policies that could impact the park.  This can make trip planning extremely tedious, potentially adding undue stress to your vacation.  Fortunately there is a solution to this, traveling with a local! 
The Yellowstone Safari Company (YSC) team is composed of expert guides with strong backgrounds in conservation and natural resources.  In booking a tour with YSC you can expect a wonderfully educational, exciting and fulfilling experience with a guide who potentially spends as much time in the park as they do at home.  This daily exposure provides valuable insights into a dynamic world, and can make navigating it significantly easier.  The Yellowstone Safari Company offers a variety of vehicle based, guided Yellowstone tours that aim to make the most of your visit.  Read on to discover what types of trips you can select from!
With just a full day you can explore the highlights of Yellowstone National Park with a Best of Yellowstone Tour.  This will include seeing iconic features such as the eruption of the Old Faithful Geyser, the blue depths of the Grand Prismatic Hot Spring and discovering the other diverse geothermal features that exist within the park.  This tour will also reveal the beauty that the Grand Canyon of the Yellowstone River wields.  This canyon reaches depths of 1,500 ft and a maximum width of 4,000 ft.  Its stony interior is stained with lovely shades of yellow, red and orange due to oxidized rust and sulfur.  The Yellowstone River flows through the canyon like a teal ribbon which intermittently morphs into whitewater rapids and waterfalls of 100-300 ft in height.  
Other full day tour opportunities include a Yellowstone Wildlife Safari or Walking Safari.  The wildlife based trip will take you regions of Yellowstone that have been most prosperous for animals.  Depending on the season moose, bison, wolves, elk, bighorn sheep, mountain goats or bald eagles could be found!  The keen, trained eyes of your guide will dramatically increase your chances of observing these animals in such a vast landscape, along with the assistance of binoculars and spotting scopes which are provided on every tour.  Your guide will also have the valuable insights of seasonal wildlife behaviors, which allows them to prioritize habitats in the Greater Yellowstone Ecosystem that are most likely to have native species present.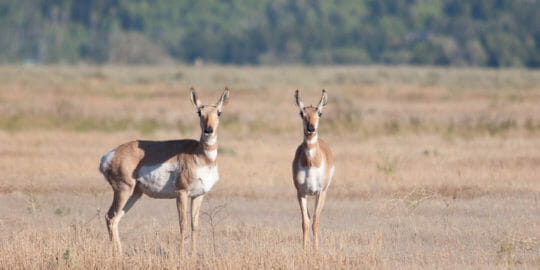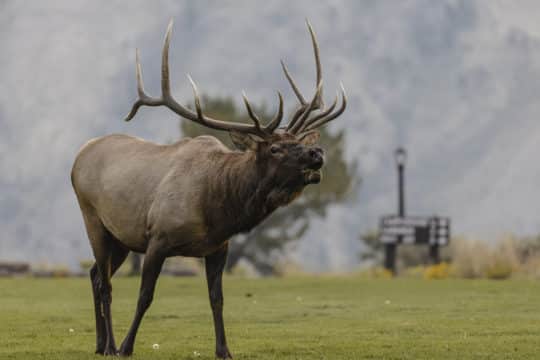 During the winter, most wildlife like elk, bighorn sheep and bison migrate into lower elevations where there is less snow.  As spring warms the landscape animals will disperse into higher elevations, where females will eventually give birth to their young of the year around May and June.  Usually by this time most bears will be out of their hibernation dens and wandering the landscape.  The summer heat often drives most wildlife into the mountains, with pronghorn and bison often remaining in the valleys.  Fall harbors the arrival of rut for moose and elk, this is their breeding season which is charged with the exciting sounds of bugles and battles with clacking antlers.  This is also a great time of year to look for bears, which will be busy foraging for food in preparation for hibernation.  Snow begins to descend upon Yellowstone by November, and as it gathers on the mountain tops and valley floors the wolf watching becomes more fortuitous.  Every season offers something special, reach out to the Yellowstone Safari Company and find out what time of the year might be best for you!  
The Yellowstone Walking Safari allows you to get out of the vehicle and explore the incredible trail system of Yellowstone National Park.  There are treks that could lead you to backcountry geyser basins, waterfalls and magnificent overlooks.  Hiking rather than driving through the park opens up the chance for all sorts of new experiences.  While on the trail listen for the variety of songs from birds that might be perched in a tree above or fluttering from sagebrush to sagebrush.  Look for the occasional summer bloom of Arrowleaf Balsamroot, Indian Paintbrush, Lupine or Mules Ears.  You might also spot the tracks and signs of wildlife along the trail, perhaps the imprint of a paw in the dirt or the claw marks of a bear on a tree.  Your guide will be eager to interpret these animal traces to you, potentially being able to identify the species that passed by and what they were up to!  The Yellowstone walking safari will be catered to your personal physical abilities and interests, so do not be intimidated by the idea of exploring the wilds of Yellowstone on foot!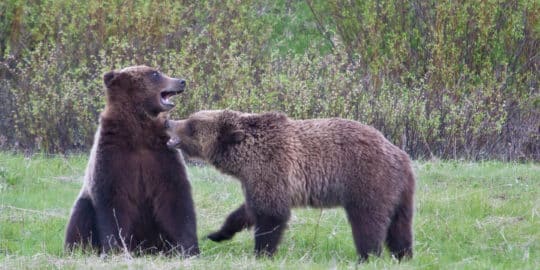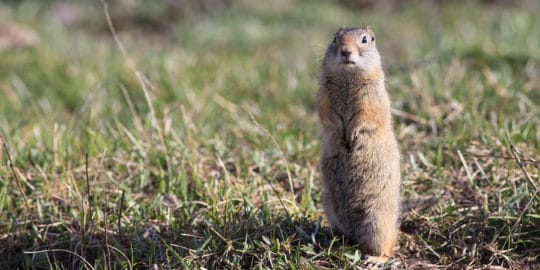 If you want to truly immerse yourself in the wonders of the world's first national park and have more than one day to spare, consider booking a multi-day wildlife excursion!  YSC has created a variety of 2-3 excursions which will focus specifically on finding those more elusive charismatic species like the gray wolf and grizzly bear.  Lodging overnight will be at the north or northeast entrance of the park which allows for quick and convenient access to wildlife hotspots such as the Lamar Valley and Slough Creek.  These tours will focus on getting you into these regions at the prime time of day for wildlife sightings, which is at dawn and dusk.  Spending more time with your guide will also allow them to provide a more in-depth experience and show more of the beautiful features of the park.  
If you are interested in photography check out a 2-3 day Private Yellowstone Photography Tour!  You will spend those days with one of Yellowstone Safari Company's expert photography guides where you can enhance your photography skills while looking for the amazing animals that roam the parklands.  Alternatively, YSC also offers a 3 Day Wild West Safari that focuses on showcasing the geothermal and geological features of northern Yellowstone.  This includes a journey over the Beartooth Highway and a visit to the McCullough Peaks Management Area to look for the legendary wild mustangs of Wyoming.  There are also options for a 3-4 day Yellowstone and Grand Teton Tour which focuses more on covering ground to see the highlights of these two parks, which would of course include Old Faithful, hot springs, Yellowstone Lake and then the quintessential peaks of the Teton Mountain Range.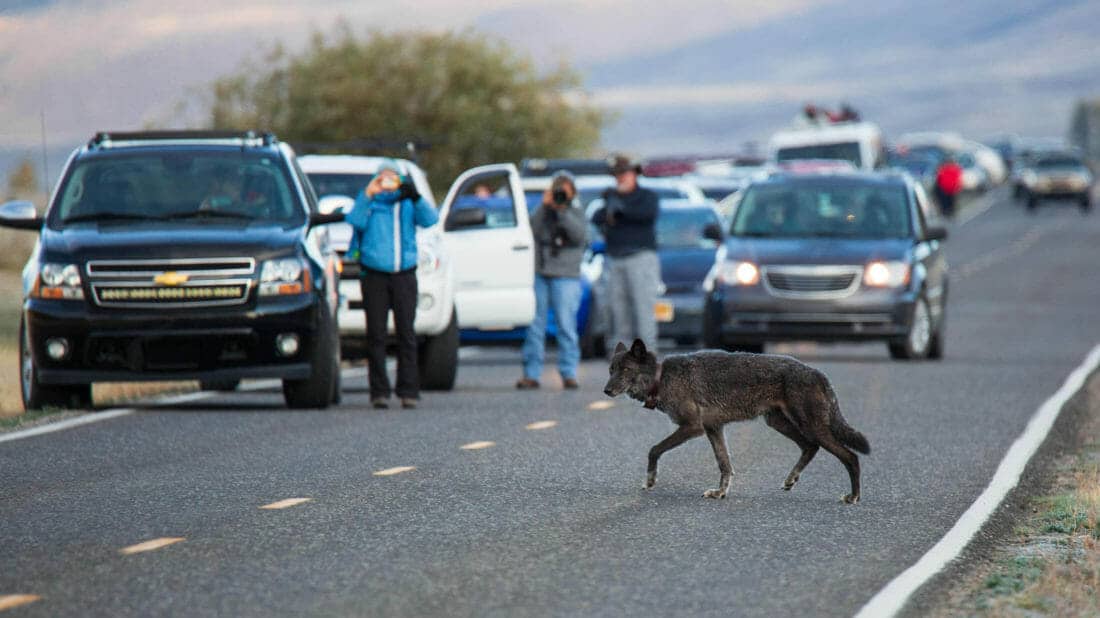 Consider designating a full week to adventuring these two national parks by flying into the Yellowstone International Airport near Bozeman, MT.  YSC offers multi-day tours that encompass both Grand Teton National Park and Yellowstone National Park.  This would be a great opportunity to observe the transition of the geology from Northern Yellowstone to Jackson Hole, as well as demonstrate the diversity of habitat and wildlife that can be found between these two world class parks.  From there you could fly out of the Jackson Hole Airport, or continue south to explore the National Parks of other states like Utah, Colorado or Arizona, or return to Bozeman if you wish.  
The Yellowstone Safari Company can guide you through the world's first national park for an experience of a lifetime.  YSC will conveniently pick up guests from their place of lodging in Bozeman, Gardiner, Big Sky, Paradise Valley, Mammoth Hot Springs or West Yellowstone.  From there, the adventure begins! 
Explore the Greater Yellowstone Ecosystem
Guided Yellowstone National Park Tours