Sprawling valleys, basalt cliffs, towering waterfalls, searing geothermals, and a plethora of wildlife; Yellowstone is otherworldly, a treasure box full of natural wonders that can't be found anywhere else. This volcanically carved landscape houses countless unique geographic features that tell one of the most dramatic stories in nature's history.  Its ecosystem is the only intact ecosystem in the lower 48, meaning that every species that inhabited this area before the arrival of humans are still here. Considering how developed the US is and how much of an impact we have on wildlife, this is extraordinary. It is also an ecosystem that hosts some of the most charismatic animals, attracting people from all over the world to see as they play out the drama of their lives in their natural habitats protected from the encroachment of human development.
Getting The Most Out Of Your Time
Yellowstone is 2.2 million acres of raw, natural wildlands. Within the park lies roughly 400 miles of paved roadway. To give some perspective of its sheer size, if you traveled every road in Yellowstone, you still only see 2% of the park! Such expansive territories with so many iconic sites can be overwhelming to plan a short visit and ensure you are getting the most out of your time. The Grand Loop packs a punch with an impressive list of attractions from Mammoth Hot Springs to Old Faithful to the Grand Canyon of Yellowstone, and the open landscapes of Hayden Valley and Lamar Valley offer world-class wildlife watching. This is where booking a guided tour with Yellowstone Safari Company can take the pressure off, and you can be confident you are seeing the best the park has to offer.  Wondering where the best places to see bears in Yellowstone are? Book a day trip early in your visit to get the lay of the land and know where you want to spend more time for the rest of your trip. This is a wonderful introduction to the park and the information you will get from our extremely knowledgeable guides will add so much value to the rest of your time, providing you with a baseline of understanding of your surroundings. Do you want to spend more time in the field and immerse yourself fully in one of the most beloved environments in the US? Consider a multi-day tour with us! You will spend more time in the places that interest you most, increase your chances of sighting wildlife, and enjoy more of the park than a day trip. Skip all the guesswork, sit back, and enjoy the view while you leave the driving, navigating, and time management to your friendly, experienced guide.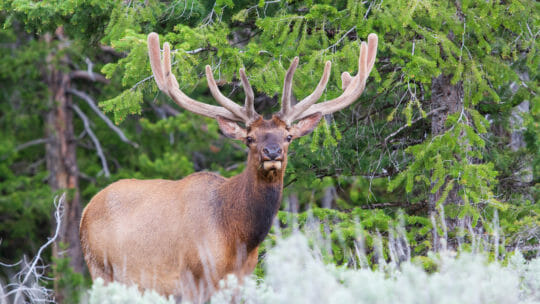 The Best of Yellowstone Wildlife
Hailed as one of the most abundant ecosystems in the US, Yellowstone wildlife rarely disappoints. The long list of critters you may encounter will leave an impression.  Your experience will vary greatly depending on which season you visit, and each season offers a unique taste of the region. 
Come in the spring to have a chance to watch bears waking up after a long hibernation. Both black bears and grizzly bears roam the park and are ravenous in April and May. Elk, mule deer and pronghorn antelope migrate back north, making them more visible than in summer. Moose and bison are permanent residents who relish the new vegetation returning after the snow melts. June sees the arrival of new life as calves and fawns stick close to their mothers. The summer bursts with wildflowers, and the bison rut goes into full swing with bulls bellowing and kicking up dust as they wallow. The fall is painted gold with the changing aspen leaves, and the ethereal elk bugling fills the forest. Antlers on moose, deer, and elk are grown to their impressive full size in time for their active breeding season. Bears enter hyperphagia, preparing for hibernation again and feasting on berries every waking moment. If you keep a sharp eye, you may spot some of our smaller characters scurrying about, like the fox, badger, ground squirrels, weasels, and marmots. Eagles soar the skies while they hunt, so don't forget to look up! The list goes on. Every season offers something so different you'll want to keep coming back again and again.

Book a Tour With Us
By choosing Yellowstone Safari Company, you are leaving the heavy lifting to us. Our wonderful, experienced guides know the best spots to look for animals thanks to their in-depth knowledge of local wildlife behaviors and most recent sightings. Your guide will pick you up in Big Sky, Gardiner, or Bozeman, depending on where you choose to stay. Each is a great jumping-off point to explore Yellowstone. Bozeman is very easily accessible through Bozeman Yellowstone International Airport (BZN). If you're on an adventurous road trip, be sure to plan ahead depending on the season: in this mountainous region, spring and fall can see snowfall that can make roads difficult to travel.
Yellowstone is one of the most popular parks to visit, so be sure to book in advance to ensure a relaxing vacation. We look forward to leading you into your most amazing Yellowstone experience!
Learn About Our Day Tours
Yellowstone National Park