Those who have not yet visited Yellowstone National Park in their lifetime often know two things about it- Old Faithful and wolves. The world's first national park consists of 2.2 million acres of a wild, untamed landscape rich with flora and fauna native to that ecosystem and an incredible variety of geological wonders. Old Faithful specifically is a type of geothermal feature known as a geyser and earned its name due to keeping up a nearly perfect routine of erupting with spouts of hot water that can reach 80 to 120 ft in height. Not many visitors know that Old Faithful is one of over 10,000 different geothermal features scattered across the park's expanse. These spectacles can be witnessed nearly anywhere you drive or hike around the region. Unfortunately, when it comes to seeing Yellowstone's other major asset, the gray wolf, they are not as nearly plentiful or immobile as geothermal features. Currently, an estimated 95 wolves reside in the park- not a very high concentration when inhabiting a swathe of land bigger than the states of Delaware and Rhode Island combined.  
Are you planning a visit to Yellowstone National Park with the hopes of observing the region's most significant wild canine? If so, knowing where to look and how to find them is genuinely beneficial. Overall, the northern range of Yellowstone is often the most prosperous when it comes to wolf-watching. The Lamar Valley, to be precise, is where most people travel when seeking out wildlife in general; for that reason, it has earned the title of "the American Serengeti." This locality was integral in restoring wolves to the park in 1995 and 1996 when 31 wolves were captured in the Canadian Rockies, transported into first an acclimation pen and then the wilds of Yellowstone. This reintroduction is the foundation for the wolves we witness today in the park, and multiple packs still utilize the motherland that is the Lamar Valley.  
The best way to find wolves in Lamar Valley Yellowstone National Park
While the Lamar Valley is arguably the best place to see wolves in Yellowstone National Park, finding this large canid is no easy task. A wolf pack can patrol territories hundreds of square miles in size and trek up to 30 miles in a day when on the prowl for food. This gives insight into daily wolf habits, knowing where prey species are currently residing, and planning to visit the park during the seasons. Wolves are most likely to be spotted as highly valuable. This is why it's always a good idea to have the help of a local!  
Since 1991 the Yellowstone Safari Company (YSC) has been striving to give visitors the experience of a lifetime with customizable tours that emphasize the adventure of seeking out the incredible variety of wildlife that resides in Yellowstone. YSC offers a variety of tours highlighting the pursuit of finding wolves in their native habitat, as well as pairing visitors with a guide who is eager to share a wealth of information about this species and how it plays an integral role in maintaining balance in one of the largest intact ecosystems in the world. The guides of the Yellowstone Safari Company are trained to be the best in knowing wildlife hotspots and have a boundless passion for the natural world that they are eager to share with their guests.  
When researching the selection of tours available with the Yellowstone Safari Company, it is vital first to consider what season is the best to see wolves. While the weather is fairer in July and August, this is often not the premier time to seek out wildlife. Higher temperatures and dryer conditions in valleys will drive most animals into higher elevations as they search for better foraging and hunting opportunities. This leaves fall, winter, and spring as some of the most opportune seasons for a wildlife safari. If one were to ask a guide precisely what time is the best for wolf watching, many wouldn't hesitate to say "winter." As the increasing intensity of snowfall and freezing temperatures pushes species like elk and deer from mountainous terrain into valleys, their predators will soon follow. Wolves are an apex predator, meaning they are at the top of the food chain and will be busy perusing hunting grounds like the Lamar Valley in winter.  
If you only have a single day to dedicate to seeking out the wonderful creatures of Yellowstone, there are a plethora of wonderful options to choose from. Both in the summer and winter seasons, the Yellowstone Safari Company offers full-day (8-10 hour) vehicle-based tours in the national park. YSC's expert guides will maximize this experience first by taking advantage of the morning start to the tour and transporting you to locations most fortuitous for finding animals like bison, elk, moose, fox, bighorn sheep, and of course- the gray wolf. Lunch and high-powered binoculars and spotting scopes will be included in this venture, making wildlife watching possible from even miles away. If visiting between November and April, consider a full-day excursion that will get you out of the vehicle and into the depths of the Yellowstone wilderness. The Big Sky Wilderness and Wildlife Adventure (8-10 hours) will allow you to engage your leg muscles on a snowshoeing trek through a wild, wintery wonderland. Afterwards, be ready to enjoy lunch in the lovely community of West Yellowstone, just south of Big Sky, MT, and then go somewhere that provides something even Yellowstone National Park cannot- year-round guaranteed wolf and grizzly bear sightings. The Wolf and Grizzly Discovery Center is an educational facility whose mission is to increase awareness of the importance of wildlife conservation by making these elusive species more accessible to visitors.   
While a single-day tour of the Greater Yellowstone Ecosystem can reveal many of its wonders, if you are interested in increasing your chances of seeing a greater variety of wildlife and more of this 2.2 million acres of preserved, undomesticated landscape, consider a multi-day trip! The Yellowstone Safari Company offers 2-3 day tours year round that prioritize searching for wolves (along with bears in the summer!) in the world's first national park. With more than one day to spare, you and your expert guide will not have to fret about rushing from one section of parkland to the next to fit in as much wildlife watching as possible. Enjoy a more leisurely pace while surveying valleys, mountainsides, and forestlands for a diversity of lifeforms, from the substantial one-ton bison to the petite short-tailed weasel. Lodging included with the tour will be near the northern entrances of Yellowstone, allowing for quick access to a portion of the park that is especially prime for wolf-watching- the Lamar Valley. As aforementioned, this is the American Serengeti, a broad open valley with numerous vantage points from which observing wolves, bears, bison, and elk galore is possible. Since dawn is one of the best times to find wildlife, for 2-3 mornings, you can expect to watch the sunrise upon the Gallatin and Beartooth Mountain Ranges, potentially listening to the low baying of wolves in the distance while your guide boils hot water nearby in preparation for a fresh cup of coffee, cocoa or tea to relieve the chill of the morning. Albeit a much more frigid time of year, winter usually is most prosperous when focussing on the lupine species. Migrations of prey, snowy landscapes, and the wolf breeding season all come together to make the months of December through April a prime time for a wolf focussed multi-day tour.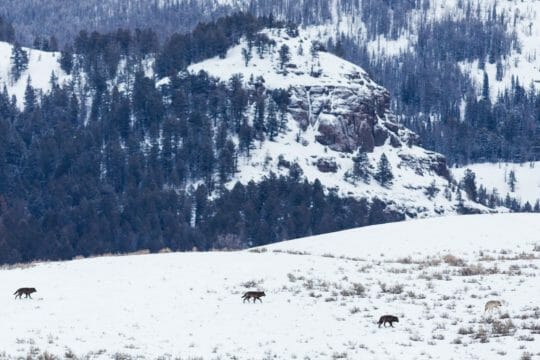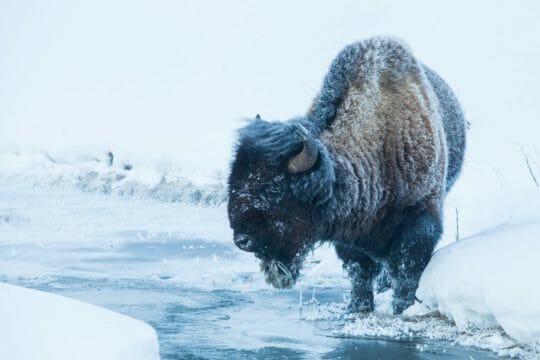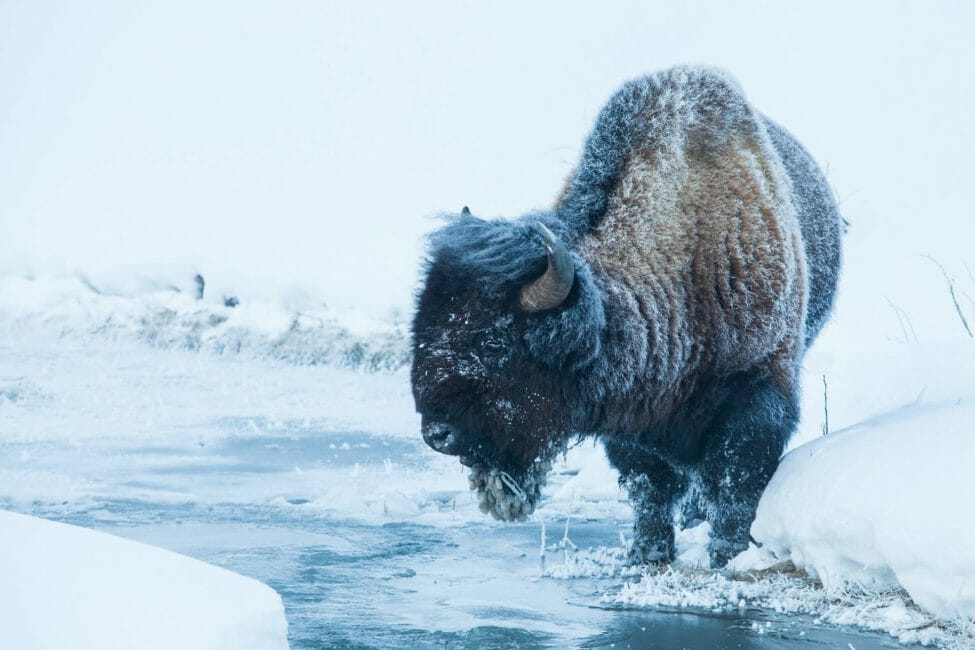 Book a tour with the Yellowstone Safari Company!
The Yellowstone Safari Company's home in Bozeman, MT, is a lovely city nestled amongst the Gallatin and Bridger mountain ranges. Access to the region is convenient, thanks to the Bozeman Yellowstone International Airport. This is a prime area to visit Yellowstone National Park, as Bozeman is just over an hour from the North Entrance to the park. The city hosts a beautiful selection of comfortable lodging opportunities from which the YSC will pick you up. Our guides have a sagacity they strive to purvey with those visiting this extraordinary place and are eager to share their knowledge and passion for the area with any guest. Let the Yellowstone Safari Company show you the wonders of Yellowstone National Park, a legacy of preservation that provides many opportunities to learn, connect with the natural world, and have once-in-a-lifetime experiences.  
Learn About Our Day Tours
Yellowstone National Park